Rail-Trails New Jersey & New York: The Definitive Guide to the Region's Top Multiuse Trails (Hardcover)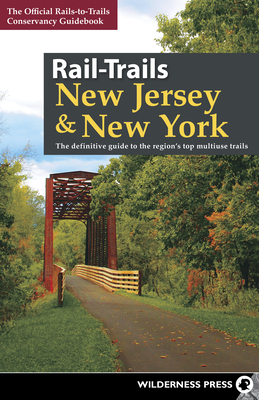 $43.95

usually available in 3-7 days
Description
---
Explore 58 of the best rail-trails and multiuse pathways across two states
All across the country, unused railroad corridors have been converted into public multiuse trails. Here, the experts from Rails-to-Trails Conservancy present the best of these rail-trails, as well as other multiuse pathways, in New Jersey and New York. Explore four Hall of Fame Rail-Trails: the High Line, New York City's famed aerial greenway, and a trio of connected rail-trails--the Hudson Valley Rail Trail, Walkway Over the Hudson, and William R. Steinhaus Dutchess Rail Trail--that form a seamless 20-mile pathway through New York's scenic Hudson Valley.
Learn about ambitious trail projects, like New York's state-spanning Empire State Trail and the 800-mile Circuit Trails network in Camden and Greater Philadelphia. And discover paths that offer views of some of America's most iconic natural treasures, such as Niagara Falls, the Great Lakes, the Atlantic Ocean coastline, the Finger Lakes, and the Catskill and Adirondack Mountains.
You'll appreciate the detailed maps for each trail, plus driving directions to trailheads. Quick, at-a-glance icons indicate which activities each trail can accommodate, from biking to fishing to snowmobiling. Best of all, the succinct descriptions are written by rail-trail experts, so you know it's information that you can rely on Whether you're on feet, wheels, or skis, you'll love the variety in this collection of multiuse trails--from beautiful waterways and scenic areas to the hustle and bustle of the states' urban centers
About the Author
---
Rails-to-Trails Conservancy is a nationwide nonprofit dedicated to converting former railroad corridors to public, multiuse recreational trails that offer easy access to runners, hikers, bicyclists, skaters, wheelchair users, and equestrians. It serves as the national voice for more than 160,000 members and supporters, more than 23,000 miles of open rail-trails across the country, and more than 8,000 miles of potential trails waiting to be built--with a goal of ensuring a better future for America made possible by trails and the connections they inspire. To find out more about Rail-Trails, check out the Conservancy's official website at railstotrails.org.