The Indictment: Prosecuting the Chinese Communist Party & Friends for Crimes against America, China, and the World (Hardcover)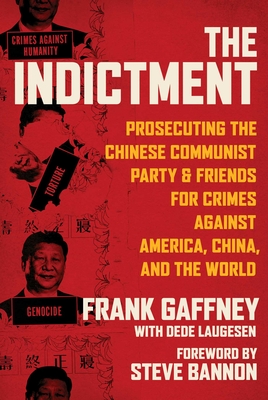 $26.99

usually available in 3-5 business days
Description
---
A generation ago, Ronald Reagan mapped out and executed a strategy for taking down the last totalitarian communist regime that sought America's destruction: the Soviet Union's "evil empire." We can settle for no less with respect to our time's "existential threat to freedom." The Chinese Communist Party (CCP) can and must be thwarted in its determined bid to crush liberty, destroy our country, and institute what Xi Jinping calls "global governance, directed and enforced from Beijing.
 
This book represents the fruits of a comprehensive effort to develop and champion a Reaganesque strategy for our time. It draws upon a comprehensive program of some seventy webinars conducted by the Committee on the Present Danger: China addressing: 1) the CCP's decades-long self-described "Unrestricted Warfare" against America; and 2) the role America's elites have played in helping the Chinese Communists win.
 
Drawing upon all this content, The Indictment identifies nine criminal "charges" that can and must be brought and prosecuted, at least in the court of public opinion, against the Chinese Communist Party and its American enablers. If, moreover, the CCP is designated as the Transnational Criminal Organization it is, actual criminal prosecutions of the Party and its friends should also be possible.
 
The Indictment also enumerates twenty specific actions that are required to punish the perpetrators of war crimes against America and humanity—and defeat those likely in the offing.
 
The Indictment is intended to inspire and equip congressional investigators, patriotic executive branch officials, journalists, and the public at large to review these charges and recommended actions for a surpassingly important and extremely urgent purpose: Bringing to justice and taking down the Chinese Communist Party for its horrific criminal conduct—past, present, and that which is in the works—against its own people and countless others, including ours. 
About the Author
---
Frank J. Gaffney is the founder and executive chairman of the Center for Security Policy, a non-partisan organization that champions "peace through strength." He is the vice chairman of the Committee on the Present Danger: China and the host of Securing America with Frank Gaffney, a daily television program on the Real America's Voice Network and heard nationally as well on the American Family Radio Network. His syndicated Secure Freedom Minute is heard daily on hundreds of stations nationwide. Mr. Gaffney acted as President Ronald Reagan's assistant secretary of defense for International Security Policy, the senior position in the Defense of Department with responsibility for policies involving US-USSR relations, nuclear forces, arms control, missile defense policy, and US-European defense ties.

Dede Laugesen is the executive secretary for the Committee on the Present Danger: China, the producer of its extensive library of webinars exposing the CCP's malevolent agenda, and an indefatigable freedom-fighter.
Praise For…
---
"We are already at war with Communist China, and we are losing. Frank Gaffney lays out the case against the Chinese Communist Party and prescribes precisely what we need to do to save this nation while we still can. If you love your country, you need to read this book. Today."
—Charles "Sam" Faddis, retired CIA Clandestine Service Officer; author of The Decline and Fall of the CIA
           
"It is time to defend the United States of America. It is time to indict the Communist Party of China. It is time to read The Indictment."
—Gordon G. Chang, author of The Coming Collapse of China
 
"It's suddenly dawning on a lot of us that the Chinese Communist Party is at war with America. Frank Gaffney has understood that, and tirelessly warned about it, for decades. As a judge, I particularly appreciate his strategy for indicting and prosecuting the world's biggest and most dangerous Transnational Criminal Organization. Let's roll!"
—Hon. Jeanine Pirro, former District Attorney and New York State Judge; author of Don't Lie to Me
 
"America is at war with Communist China. No one has done more to sound this alarm than Frank Gaffney. The Indictment is a carefully prepared treatment of how America's leaders—most especially the US Congress—must act now to both alert the American people and take the logical steps to stop the CCP in their tracks. There is no more important blueprint for America's national survival than this work by Gaffney."
—Brian T. Kennedy, President of The American Strategy Group; Chairman of Committee on the Present Danger: China
 
"Frank Gaffney's The Indictment makes the case that the People's Republic of China is an existential threat to America's national security. The evidence for this case is compelling and the recommended actions are clearly presented. If you care about the future of America, then read this book. If you want to join the effort to disrupt, degrade, and defeat the Chinese Communist Party's strategic agenda, then buy more than one and send it to your family and friends. Time is not on our side. We must act now against this clear and present danger."
—Captain James Fanell, US Navy (Ret.), former Chief of Intelligence, US Pacific Fleet
 
"The Indictment is a clarion call to face the truth about America's most formidable adversary—the Chinese Communist Party. The Indictment is the Army Field Manual of our time that equips the reader with a succinct, but comprehensive, understanding of the CCP's intent, tactics, and strategy behind their 'unrestricted warfare' to deceive and defeat the United States without firing bullets and missiles. Like the work of the Committee on the Present Danger (USSR) that was the most valuable resource in providing President Ronald Reagan with information that led to the defeat and break-up of the Soviet Union, The Indictment has the same power—the culmination of four years of work by the great minds behind the Committee on the Present Danger: China. It is the single best short work that chambers the information bullets to bring down the CCP. A must-read for busy people eager to grasp what's needed to win this epic battle, and save America."
—Dr. Scott S. Powell, PhD, Senior Fellow, Discovery Institute; author of Rediscovering America
 
"We're in a war, but only one side has been fighting it. It's long past time that the United States joins the battle against the most existential threat we've ever faced: the CCP. The Indictment offers a brilliant and exact roadmap to not just stop the CCP, but defeat it. Every American must read it to understand what we're up against–and what we all must do to ensure American freedom, prosperity, and dominance in the twenty-first century."
—Dr. Monica Crowley, PhD, former Assistant Secretary of the Treasury; author of What the Bleep Just Happened
 
"For far too long, the Chinese Communist Party's existential threat to the United States was ignored. Now that there is increasing recognition of the danger, concrete measures must be taken against it. Frank Gaffney with Dede Laugesen for the Committee on the Present Danger: China have produced an exceptional book, The Indictment, that addresses both the threat and the needed response. The book documents the crimes of the Chinese Communist Party against America and humanity so that readers will understand the nature of the threat and the critical steps of what must be done to defeat the CCP. This comprehensive, thoughtful, and strategic analysis provides an unparalleled tour of the horizon regarding the CCP's unrestricted warfare campaign against the United States and how the CCP is assisted in this war by people, businesses, and governments around the world—including on Wall Street and Silicon Valley. This remarkable book is essential reading for all who seek to understand the scope of the threat and what must be urgently accomplished to defeat the malevolent force that is the Chinese Communist Party.
—Dr. Bradley Thayer, PhD, Director of China Policy, Center for Security Policy; author of Understanding the China Threat