A New Home for Allie (Paperback)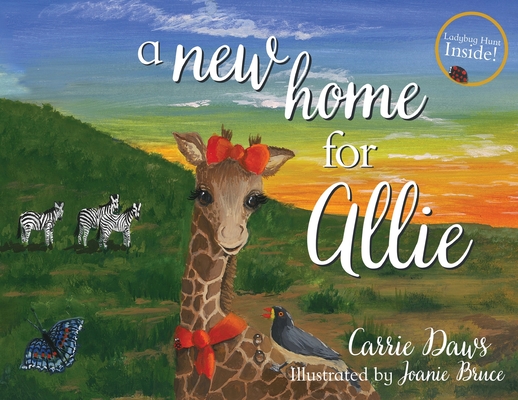 $14.99

usually available in 3-5 business days
(This is a special order book which cannot be returned.)
Description
---
A New Home for Allie strikes a chord for constantly-relocating military families and is a must-have for any child's library
Kellie Artis, Director of Communications, MILLIE-Bringing Military Families Home
Allie loves her home in Kenya. But her dad works for the Animal Jungle Patrol, and he just got orders to move their family to Somalia. She has many questions, and the journey will be long. Will the new place be like what she knows? Will she find friends in her new home? And will she ever see her best friend again?
What awaits her in A New Home for Allie?
Additional Endorsements:
This sweet and heart-touching lovely picture book has a bibliotherapy aspect, too, for children who face relocation. Highly recommend.
Carrie Fancett Pagels, Ph.D., Award-winning and ECPA bestselling author
Moving is never easy for a child but it is so much harder for military kids. I live close to an air force base and every spring houses go up for sale and families move. A New Home for Allie is a sweet story that can help a child with the fear of leaving behind everything you know for a new adventure.
Diana Lesire Brandmeyer, CBA best-selling author of Mind of Her Own
As a 47-year military spouse, I'm so familiar with the angst of Dad receiving orders to move to another location and the effect this news has on the entire family - including pets Carrie does a superb job of bringing the reader right into the story by sharing the many questions Allie has for her parents about their new home, and what it's like in comparison to the only home she's ever known up to this point. . . . this book is deep in meaningful life lessons for all of us - young and old alike - about change and the personal growth that occurs when we open our minds and hearts and move outside our comfort zone.
Dr. Dorothy Guy Bonvillain, Founder and CEO, Warrior Wives Academy, LLC
Author Carrie Daws has given us a gift with A New Home for Allie. The characters are engaging and the illustrations beautiful. Moving to a new place can be difficult for children, especially those with a parent in the military. This book presents the process in a positive and encouraging manner. Definitely a book I'm adding to resources I recommend.
Edie Melson, award-winning author
With lush illustrations and a heartfelt story, A New Home for Allie is sure to ease the transitioning child. A wonderful tool for parents and caregivers. Kids and adults alike will savor each beautiful page.
Jocelyn Green, author of Faith Deployed: Daily Encouragement for Military Wives
A New Home for Allie is a delightful picture book for children encountering a big life change. . . . A New Home for Allie is a lovely book and will make a very nice addition to the library of any family, but particularly well-suited to those in military families.
Kate Kessler, Product Reviews Director, The Old Schoolhouse Magazine, LLC
What a fun story I wasn't ready for it to end. I hope to go on more adventures with Allie and the Animal Patrol in the future.
Patricia Beal, author of A Season to Dance and mom of two Army Brats.