A Wild Day at the Zoo - Bilingual Hawaiian and English Edition: Children's Picture Book (Large Print / Hardcover)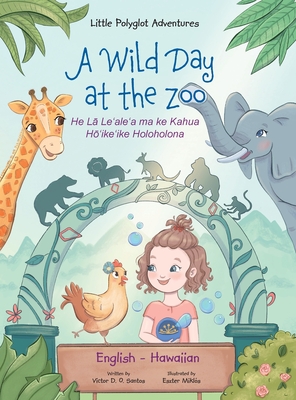 $23.99

usually available in 3-5 business days
Description
---
★ WINNER OF THE 2020 TILLYWIG BRAIN CHILD AWARD ★
"A Wild Day at the Zoo is highly recommended. Children with parents and grandparents who have different first languages will love seeing how Dylan and Isabella interact with their Brazilian and Ukrainian parents. Those who aren't that fortunate can still get a jump on learning new languages through reading this book." -- Readers' Favorite 5-star review
"A Wild Day at the Zoo's uplifting, fun tone pairs nicely with its messages and lessons. It will appeal to anyone seeking to expand a child's experiences with other cultures and languages." -- Midwest Book Review
"The warm, playful interactions that occur throughout the story are especially enlightening due to Dylan and family's habit of sharing with one another the things they see, hear and learn. As a result, readers take in fun, memorable facts relating to things like cheetah speed, the uniqueness of zebra stripes, even the eating habits of elephants." -- Tillywig Brain Child Award reviewer
Little Polyglot Adventures Series (Vol. 2): A Wild Day at the Zoo / He Lā Leʻaleʻa ma ke Kahua Hōʻikeʻike Holoholona - Bilingual English and Hawaiian Children's Picture Book
This is the bilingual English and Hawaiian edition of this book and it is the sequel to Vol 1: Dylan's Birthday Present / Kā Dylan Makana Lā Hānau.
This book is also available in several other languages, including in bilingual versions.
Summary in English:
The city zoo is holding a very special event. Today, guests can bring their own pets to the zoo Of course, all city residents want to join in on the fun. Dylan and Isabella, the little polyglot siblings, see this as a great opportunity for Kiki, Dylan's pet chicken, to meet her animal friends. However, things get a bit out of control when Kiki is left unattended. In this fun and colorful story, children will learn about the importance of thinking outside the box and using their imagination and creativity to solve difficult problems.
While reading this book, kids will learn six new words in different languages and feel like little polyglot themselves
If you are looking for a children's book that will help your child see the value in speaking other languages, in being multicultural, and that will hopefully get them excited about learning languages, this book is a great choice.
♥If you like this book, don't forget to check out its coloring book companion (sold separately).
Summary in Hawaiian (ʻŌlelo Hawaiʻi):
He hanana kūikawā kā ko ke kahua hōʻikeʻike holoholona o ke kaona e mālama nei. I kēia lā e hiki ai i nā mea kipa ke lawe i hānaiahuhu ponoʻī iho i ke kahua hōʻikeʻike holoholona He mea nō hoʻi kēia e hoihoi ai nā kānaka o nā ʻano like ʻole. Noʻonoʻo ihola ʻo Dylan lāua ʻo Isabella, nā keiki lau ʻōlelo liʻiliʻi, i ka maikaʻi o kēia hanana na Kiki kā Dylan hānaiahuhu, he ala e launa ai me nā hoa holoholona. Lapa naʻe ka hana i ka wā i makaʻala ʻole ʻia ai ʻo Kiki. Ma kēia moʻolelo piha ʻeu e noʻonoʻo akamai ai ke keiki i nā ala hakuhia e hoʻoponopono ʻia ai nā pilikia.