Electrical Engineer Because Badass Miracle Worker Isn't An Official Job Title: Coworker Staff Office Funny Gag Colleague Notebook Electronics Electric (Paperback)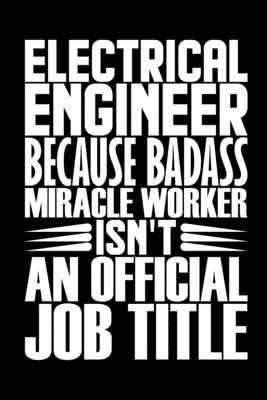 $6.93
usually available in 5-10 days
Description
---
❤ Are you looking for a single gift that will make everyone happy? This journal notebook is one of the best family gift ideas for birthday 2020 ❤
This journal paper is a neutral wide-ruled paper with a line at the top for date
Gear up for the upcoming events and holidays and get these Journal Notebook for anyone who loves wide-ruled notebook paper 6 x 9 inch with cute and funny design to use this as a journal, planner or diary or for notes taking, writing, drawing, doodling, sketching as a cool gift idea for birthday, back to school, independence day, graduation or even for holidays like thanksgiving as a gift for mom dad or kids.
Journals are a big part of the self-help movement and are often used by people who would like to write down their thoughts, often during a particularly challenging transition in their lives, for example, pregnancy, rehabilitation, illness or therapy. People also like to journal while traveling, taking part in a new activity (like a class) or when they're planning something exciting like a wedding or adoption.
Journals are also popular with people who would like to make a change in their lifestyle, so they may use it to document their sleeping, exercise, cleaning or eating habits, their dreams or their thoughts about their relationship or financial affairs.
Journal Notebook Features:
100 blank lined white pages
Duo sided wide ruled sheets
6 x 9 Inch (15.24 x 22.86 cm)
Professionally designed matte softbound cover
★★★ Grab this cool awesome journal paper for yourself and your family or use it as a gift idea for your friends. So, Click on the ( brand name above ) to see other funny and cute journal paper graphic design ideas. ★★★