Poor Helpless Comics!: The Cartoons (and More) of Ed Subitzky (Paperback)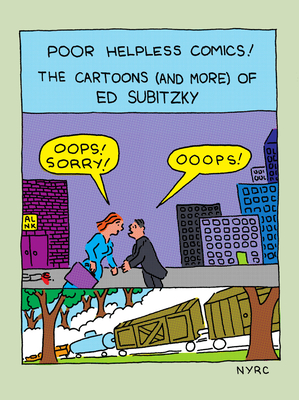 Description
---
The first-ever collection of comics by Ed Subitzky—comedy writer, National Lampoon legend, Atari spokesperson, "The Impostor" on The David Letterman Show, and an enduring influence on an entire generation of cartoonists and humorists.

For the entire run of National Lampoon, Ed Subitzky bent, broke, and reimagined what a cartoon could do: A cartoon that hypnotizes you. A cartoon that goes to prison. A cartoon that folds up and flies away. Framed by an interview with Mark Newgarden, this first-ever collection of Subitzky's work is a portrait of one of the funniest, most prolific humorists of the '70s and '80s.
About the Author
---
Ed Subitzky is a cartoonist, humor writer, and performer. A contributing editor at National Lampoon for nearly two decades, he also wrote and performed for The National Lampoon Radio Hour. He went on to write and perform for several seasons of The David Letterman Show. His art and writing have appeared in The New York Times, American Bystander, and The Journal of Consciousness Studies, among others. He lives in New York City.

Mark Newgarden is a cartoonist and illustrator. He is the author of Cheap Laffs: The Art of the Novelty Item; a collection of comics and stories, We All Die Alone; with Megan Montague Cash, the Bow-Wow series of children's books; and, with Paul Karasik, How to Read Nancy: The Elements of Comics in Three Easy Panels.
Praise For…
---
"Ed Subitzky's cartoons are brilliantly funny, amazingly clever, and frankly adorable. So, for that matter, is Ed himself. Thank God all his amazing work has finally been collected in one place." —Mike Reiss, writer and producer for The Simpsons

"Subitzky has long been one of my favorite cartoonists; his Dada-tinged minimalist comics set my brain on fire when I first encountered them as a teenager. I'm not alone in having waited impatiently for decades for someone [to] publish a collection of his work... To me and many others, he remains one of the most singular figures in comics history, and the new book should open his brainy, bizarre take on the world to new audiences. It truly deserves the attention." —John Kelly, The Comics Journal

"I first saw Ed Subitzky's work in the Funny Pages section of National Lampoon. I immediately loved his stuff. I thought his comics were hilarious. Strange, surreal, interesting, never show-offy, never mean or stupid. Ed Subitsky is one of my cartoon heroes." —Roz Chast

"By the time I graduated from high school I knew about bitter and sweet, but thanks to cartoonists like Ed Subitzky, I also knew about weird and rare and hilarious ways of changing one into the other. [Subitzky] taught me to watch the people around me and listen to how they talk and to write down what they say." —Lynda Barry, from Blabber, Blabber, Blabber: Volume 1 of Everything