Blood and Fears (Paperback)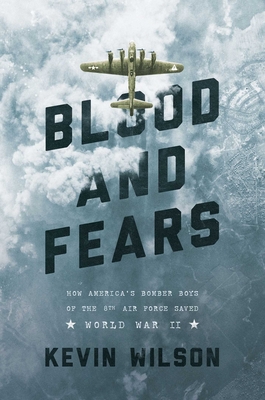 Description
---
The US 8th Air Force came of age in 1944. With a fresh commander, it was ready to demonstrate its true power: from Operation Argument in February—targeting German aircraft production plants—to bringing the Luftwaffe to battle over Berlin, the combined US Air Force-Royal Air Force forces' round-the clock campaign bottled up the German army in Normandy.In this authoritative history, Kevin Wilson reveals the blood and heroism of the 8th Air Force. At the same time, he opens up the lives of the Women's Army Corps and Red Cross girls who served in England with them and feared for the men in the skies, and he hasn't flinched from recounting the devastation of bombing or the testimony of shocked German civilians.Drawing on first-hand accounts from diaries, letters, and his personal audio recordings, the author has brought to life the ebullient Americans' interaction with their British counterparts, unveiling stories of humanity and heartbreak. Thanks to America's bomber boys and girls, the tide of World War II shifted forever.
About the Author
---
Kevin Wilson has spent most of his working life as a staff journalist on British national newspapers, including the Daily Mail and the Sunday Express. He is the author of Blood and Fears and Airborne in 1943, also published by Pegasus Books.
Praise For…
---
An intimate, often affecting look back at a group of young men who established an American air superiority that persists to this day.

The whole book—style, information, readability (and other merits I can't express as I'm not that literary) are great! One of the most enjoyable I have read; hard to put down.

A highly readable and intimate account. A well-researched and well-written history of a significant aspect of World War II. For most collections.

Wilson's all-guns-blazing history of the United States Army Air Forces boys and girls covers everything from Glenn Miller dances and gifts of silk stockings to nerve-wracking daylight raids over Germany. It flies.

A sweeping history of the time period that includes the decisions to keep attacking, despite the losses. It captures not only the experiences of the bomber crews but also the British population, the U.S. fighter squadrons providing escort, and the ground support personnel. The author's admiration for the courage, sacrifice, and skill of the bomber crews is evident in every chapter.

Kevin Wilson has gathered together a treasure trove of unique stories from an incredible range of sources. Tense, thrilling and often tragic, his book brings to vivid life the everyday heroism of the American bomber boys.