Always Red (Paperback)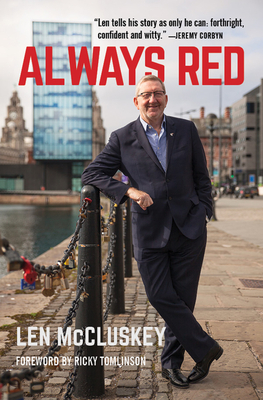 $19.95

Coming Soon - Available for Pre-Order Now
Description
---
"Len tells his story as only he can: forthright, confident and witty. What emerges is a hard-hitting assessment of dramatic times, and a message of hope for the future."

-- Jeremy Corbyn
Len McCluskey is the standout trade unionist of his era. Head of the giant Unite union for more than a decade, he is a unique and powerful figure on the political stage.

In this major autobiography, McCluskey throws back the curtains on life at the top of the Labour movement--with explosive revelations about his dealings with Keir Starmer, the behind-the-scenes battles of the Corbyn era, his secret Brexit negotiations with Theresa May's government, the spectacular bust-up with his former friend Tom Watson, and his tortuous relationship with Ed Miliband.
McCluskey is no run-of-the-mill trade unionist. Fiercely political, unflinchingly left wing, he is a true workers' leader. His politics were formed in Liverpool at a time of dock strikes, the Beatles, and the May 1968 revolution in Paris. An eyewitness to the Hillsborough tragedy, he recounts in harrowing detail searching for his son.
Witty and sharp, McCluskey delivers a powerful intervention, issuing a manifesto for the future of trade unionism and urging the left not to lose sight of class politics.
A central player in a tumultuous period of British political history, McCluskey's account is an essential--and entertaining--record of our times.
About the Author
---
Len McCluskey, general secretary of Unite the Union for more than a decade, is a trade unionist from Liverpool. Elected a shop steward on the Liverpool docks aged 19, he rose through the Transport and General Workers' Union before playing an instrumental role in the creation of Unite. As its leader, he became a national political figure and a powerful influence in the Labour Party. He is a lifelong supporter of Liverpool Football Club and the author of Why You Should Be A Trade Unionist. Ricky Tomlinson is an actor, comedian, and political activist from Liverpool. Unjustly gaoled for trade union activity in 1973, he switched from building work to acting upon his release. His most iconic role came as Jim Royle in The Royle Family.