The Dancer and the Devil: Stalin, Pavlova, and the Road to the Great Pandemic (Hardcover)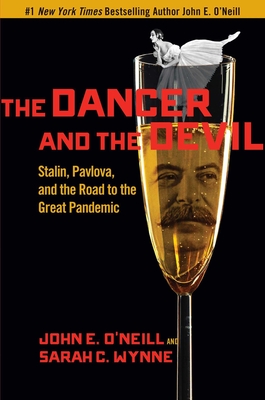 $29.99

usually available in 3-5 business days
Description
---
Communism must kill what it cannot control. So for a century, it has killed artists, writers, musicians, and even dancers. It kills them secretly, using bioweapons and poison to escape accountability. Among its victims was Anna Pavlova, history's greatest dancer, who was said to have God-given wings and feet that never touched the ground. But she defied Stalin, and for that she had to die. Her sudden death in Paris in 1931 was a mystery until now.

The Dancer and the Devil traces Marxism's century-long fascination with bioweapons, from the Soviets' leak of pneumonic plague in 1939 that nearly killed Stalin to leaks of anthrax at Kiev in 1972 and Yekaterinburg in 1979; from the leak of a flu in northeast China in 1977 that killed millions to the catastrophic COVID-19 leak from biolabs in Wuhan, China. Marxism's dark past must not be a parent to the world's dark future.

COMMUNIST CHINA PLAYED WITH FIRE AND THE WORLD IS BURNING

Nearly ten million people have died so far from the mysterious Covid-19 virus. These dead follow a long line of thousands of other brave souls stretching back nearly a century who also suffered mysterious "natural" deaths, including dancers, writers, saints and heroes. These honored dead should not be forgotten by amnesiac government trying to avoid inconvenient truth. The dead and those who remember and loved them deserve answers to two great questions. How? Why?

The Dancer and the Devil answers these questions. It tracks a century of Soviet and then Chinese Communist poisons and bioweapons through their development and intentional use on talented artists and heroes like Anna Pavlova, Maxim Gorky, Raoul Wallenberg and Alexis Navalny. It then tracks leaks of bioweapons beginning in Saratov, Russia in 1939 and Soviet Yekaterinburg in 1979 through Chinese leaks concluding in the recent concealed leak of the manufactured bioweapon Covid-19 from the military lab in Wuhan, China. Stalin, Putin, and Xi, perpetrators of these vast crimes against humanity itself, should not be allowed to escape responsibility. This book assembles the facts on these cowardly murderers, calling them to account for their heartless crimes against man concluding in Covid-19.
About the Author
---
John E. O'Neill is the author of #1 New York Times bestseller Unfit for Command and (with Sarah C. Wynne) Amazon #3 bestseller The Fisherman's Tomb. He graduated from the United States Naval Academy in 1967 and, after decorated service in Vietnam, finished as the top graduate of The University of Texas School of Law. Following a clerkship with Chief Justice William Rehnquist at the United States Supreme Court, O'Neill successfully tried several hundred cases and arbitrations, including representation for the People's Republic of China in their first U.S. litigation. He declined any further representation of the PRC after the massacre at Tiananmen Square, where many innocent people died or disappeared.



Sarah C. Wynne co-authored The Fisherman's Tomb, currently being made into a feature film, and River Royals: Master the Mississippi, winner of a Mom's Choice Award®. She graduated from The University of Texas with both a law degree and undergraduate business degree with high honors. After practicing as a litigator with an international law firm, Wynne embarked on a second career as an artist in Houston, where she lives with her husband and two children.