The Beauty of the Hebrew Letter: From Sacred Scrolls to Graffiti (Hardcover)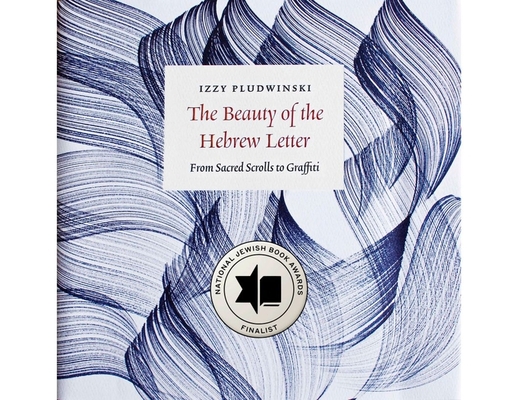 Description
---
A celebration of the beauty of the Hebrew aleph-bet from sacred scrolls to graffiti.
 
The Beauty of the Hebrew Letter is unique: there are many art books on Chinese lettering, Roman lettering, and so on, but this is one of just a few books on the Hebrew letter, and what a beautiful book it is. Calligrapher and scribe Izzy Pludwinski is in love with letters, and this love shines through in this extraordinary, groundbreaking book. Here you will find examples of Hebrew writing and design from Biblical times to the present day that showcase the art of lettering as well as the beauty inherent in the forms themselves. Only one who deeply understands the formation and meaning of these characters could assemble a book of such depth, breadth, and beauty. Though firmly entrenched in the world of traditional Judaica, Pludwinski's calligraphic passion lies in finding ever-new expressive forms for the Hebrew aleph-bet—a path that has led him to anywhere from font development to Zen-influenced abstract Hebrew calligraphy, from sacred scrolls to graffiti.
 
Why Beauty?
 
Beauty is not just a static presentation of form. Calligraphy is like dance—the strokes that form the letters are the embodied gestures of the moving hand and body. One senses the vitality in the movements that underlie these forms. They make the letters come alive, and it is this lifeforce that resonates with the viewer.
 
Why Hebrew?
 
In the Midrashic tradition, the Hebrew letter is not simply an arbitrary symbol meant to express a certain sound. There is meaning in the shapes themselves. One develops a relationship with each of the letters. When one writes them, one respects their individuality, on the one hand, and their sense of community, on the other. They belong together. One way to show this respect is to write them as beautifully as possible, to enliven them, to make them shine.
 
With more than 200 illustrations that span the history of the Hebrew aleph-bet over three millennia, this book will engage, delight, and surprise.
 
About the Author
---
Izzy Pludwinski is a Jerusalem-based professional calligrapher and Sofer STaM. He is the author of Mastering Hebrew Calligraphy, which was chosen as a finalist for the National Jewish Book Awards in 2014. His works have been included in international exhibitions in England, the United States, and Russia, and he has had several one-man shows in Israel. His works have been featured many times in the prestigious Letter Arts Review journal.
 
Praise For…
---
"Pludwinski takes pains to depict Hebrew lettering as an ever-evolving art form, and his careful descriptions, replete with fascinating technical detail, illuminate the art without being overwhelming. This is a treat for the eyes and mind."
— Publishers Weekly

"A book for font enthusiasts, lovers of Judaica, and those passionate about the minutiae and range of the written form. . . . The Beauty of the Hebrew Letter demonstrates how prolifically [ritual objects] can be multiplied and meaningfully interpreted in the hands of artists throughout the centuries." 
— Hyperallergic

"Collating texts from across continents and more than three millennia, he demonstrates not only the artistry of Hebrew calligraphy, the meaning and formation of the aleph-bet from biblical times to the present day, but also its mystical beauty. . . . The aim of The Beauty of the Hebrew Letter is to liberate Hebrew from its context. Pludwinski rarely translates the texts on display. He doesn't want us to see the lines of Hebrew letters as artefacts from the past tied to the function of the texts from which they have been extracted, but as art objects to be contemplated and experienced on their own terms."
— Jewish Chronicle

"As Izzy's book sweeps us grandly across time, from the historic to the contemporary—over the surfaces of stone, parchment, and paper—we happily discover modern secular letters peacefully abiding with their sacred forebears. . . . Across this expanse, Hebrew letter artists share their discoveries, their intimate, sensitive probings recorded in aesthetic statements, perhaps connecting us to our own transcendent longings for wholeness. For such a response to the experience of beauty, Izzy has prepared us by quoting Andre Aciman: 'Suddenly, we are marveled and uplifted, pulled out of our small, ordinary lives and taken to a realm far richer and more eloquent than anything we know.'"
— Alphabet: The Journal of the Friends of Calligraphy

"This delightful book spans virtually the entire history of Hebrew writing.''
— FABS Journal

"Pludwinski has an artist's eyes and the disciplined hands of a master scribe. In this beautiful book he writes from the heart with deep understanding of the techniques and rhythms of traditional and modern Hebrew letterforms and shows us how the aleph-bet continues to evolve, versatile and beautiful, as a vitally expressive contemporary art form."
— Donald Jackson, Calligrapher

"Pludwinski is an artist, an artisan, and a master teacher. His letterforms sing and soar. Were all the skies made of parchment, all the seas overflowing with ink, every reed and quill a pen, and everyone a scribe by trade, I cannot image a better, more accessible, more consummately gorgeous book on Hebrew calligraphy could be created. This work is a gift that deserves to be gifted to all who we love, and to all to whom we wish to introduce the breathtaking beauty of Hebrew script."
— Marc Michael Epstein, Vassar College

"Much has been published on Latin, Chinese, and Arabic calligraphy, but relatively little on beautiful Hebrew writing. This book fills the gap in a most comprehensive way, profusely illustrated with examples from thousands of years ago to the present day, running the gamut from polished, consistent letterforms to wildly abstract expressions of the alphabet – including three-dimensional carved examples and even street graffiti. For an overview of the possibilities for beauty offered by Hebrew letters there is no better resource than this book."
— Jerry Kelly, award-winning book designer, printer, calligrapher and president of The Typofiles

"This magnificent book is a complete joy, uplifting and energizing. It will be a classic."
— Ewan Clayton, University of Sunderland and The Royal Drawing School