Positive Caregiving: Caring for Older Loved Ones Using the Power of Positive Emotions (Paperback)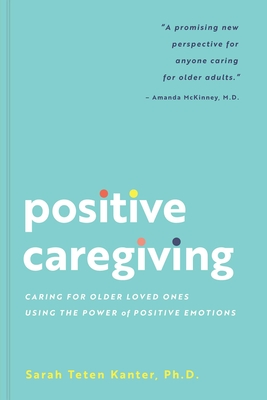 $18.95

usually available in 3-5 business days
Description
---
A positive antidote to the negative narrative on caregiving, Positive Caregiving helps those who are caring for older adults connect with their care partners and enjoy life together through positive emotions and engaging activities.

There are more than 40 million family caregivers in the U.S. caring for an older adult. The overwhelming narrative in the U.S. is that caregiving for older adults is a burden to bear and a problem to be solved. Positive Caregiving offers an alternative, positive perspective and provides an accessible, research-based path for people who want to make the most of the caregiving experience.

At the heart of the book is an extensive list of simple activities, conversation-inspiring questions, and self-care practices designed to immerse caregivers and their care partners in gratitude, empathy, forgiveness, love, and awe. These five specific positive emotions are central to caregiving relationships and have been shown to improve health, help reduce stress, and create meaning in daily life. 
 
There are many books available for caregivers trying to navigate day-to-day practicalities. This book focuses on the emotional journey and personal growth opportunities inherent in the caregiving experience, helping readers to embrace, celebrate, and honor this critical role in modern society.
About the Author
---
Sarah Teten Kanter, Ph.D., is on a mission to help people embrace the gift of growing older. She is the founder and CEO of Positive Caregiving™, a software and services firm focused on making caregiving and care receiving a positive experience and an opportunity for personal growth. She holds a doctorate and a master's degree in gerontology from the University of Nebraska-Omaha. Prior to pursuing her passion in gerontology, she was the chief marketing officer and chief customer officer at Kenexa, now an IBM company. She lives in Lincoln, Nebraska, with her family.
Praise For…
---
"Kanter's emphasis on creating a positive lens for this special relationship is refreshing."— Gloria Drake, Library Journal