Serial Killers - Beyond Evil True Crime Case Files 2: Motorcycle Killer, Double Life Killer of a Serial Murderer, Angel of Death, Spokane Killer, Nigh (Paperback)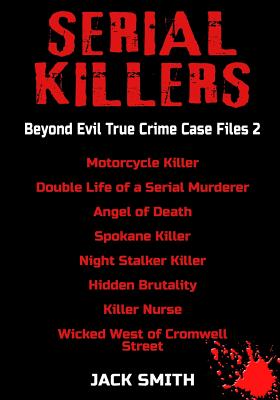 $12.99
usually available in 3-7 days
(This is a special order book which cannot be returned.)
Description
---
Pure evil... these 8 cases of true crime serial killers will let you discover how far these psychopaths can go to satisfy their needs to kill.
The thought of a murder taking place somewhere in the world chills one's spine. And when you think that there are multiple cases of people murdering dozens of others, you can't help but freeze on the inside thinking of how such heinous cases exist and keep happening. Yet we can't help but feel intrigued by these cases as they show us the extreme evil that a human can reach.
In this book, you'll discover the true crime stories of eight lesser-known serial killers. These include:
The Motorcycle Killer - Tiago Henrique Gomes da Rocha is the monster in the deceptive mask, the handsome man with the suave persona that fooled so many. He is among Brazil's most prolific serial killers.
The Double Life of a Serial Murderer - A serial killer who never got to pay for his horrific crimes. Meet Herb Baumeister. On the surface, he appeared to be a successful business and family man, but underneath lay a twisted psychopath.
Angel of Death - For 20 years, Tommy Lynn Sells killed without remorse. This horrific crime spree stunned the nation and goes beyond the typical psychopath behavior of serial killers.
The Spokane Killer - Though Robert Lee Yates might not be as well-known as many of the other American serial killers, his violent crimes nevertheless left a savage impact. What prompted a veteran and family man to start murdering women later in his life?
The Night Stalker Killer - There are some people who travel so far beyond the pale of conventional morality that their actions almost seem like desperate works of fiction. Richard Ramirez is one such person, a Satan-worshipping and drug addict who carried out one of America's most brutal and horrific crime sprees.
Hidden Brutality - Brutality, sadism, remorselessness...Just a need to kill. This is Carl Eugene Watts, the Sunday Morning Slasher.
Killer Nurse - Hospitals are supposed to a place of healing, but wherever Genene Ann Jones worked, a trail of suspicious deaths followed. What makes this killer nurse one of the most sickening serial killers is that she targeted defenseless, innocent babies and children.
The Wicked West of Cromwell Street - What Fred and Rose West did for decades before getting caught in their house on 25 Cromwell Street, nicknamed the House of Horrors, goes beyond anything anyone could ever imagine...
Scroll back up and click the BUY NOW button at the top right side of this page to order your copy now