Clear Her Name: A Mother's Journey in Legal Research to Save Her Daughter (Paperback)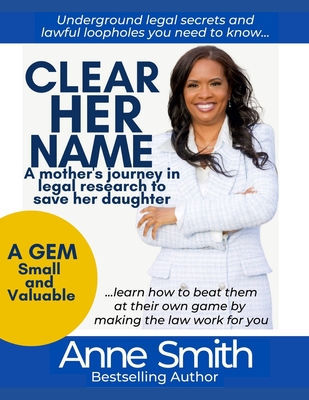 $29.00

Backordered - OK to 'add to cart' and we'll let you know when your copy is here
(This is a special order book which cannot be returned.)
Description
---
★★★★★ "Skillfully presented and written " - Mica P.
★★★★★ "Worth picking up " - Amazon Customer
◆ NEVER BE A VICTIM OF THE LEGAL SYSTEM AGAIN ◆
Clear Her Name is a "mini-textbook", and true story that will empower LAYPEOPLE (non-attorneys) like Anne to advocate for themselves, their families, their community, and thousands of innocent women and men who were wrongfully convicted and wrongfully committed to receiving the justice they deserve.
She went in for a routine dental procedure. What happened next was a nightmare that lasted for over eight years. A true story that will shock you but also raise your awareness about the legal system and your rights...
When Anne Smith's daughter went to the orthodontist to have her wisdom teeth removed, she could never have imagined that within a few hours her life would change forever. Suffering from a severe adverse reaction to prescribed psychoactive drugs, she became uncharacteristically violent and arrested for attempted murder.
You would think that being prescribed too many wrong medications that led to her psychotic break would position the justice system on her side, but it did the exact opposite. Persecuted by her own attorneys, State doctors, and a prosecutor with false evidence who painted her as a monster, she was imprisoned, forced to take medications, and denied to be a mother for over eight years.
Witnessing this corruption and breakdown of the system firsthand, Anne sets out to uncover the truth through legal research in an attempt to free her daughter who was trapped between the crosshairs of two powerful entities - the justice and mental health systems. Success would mean bringing the lies used to railroad and condemn her daughter to the public eye, clearing her daughter's name, and perhaps changing the justice system forever. Failure would result in a certain prosecutor and public offender continuing their reign of terror on her daughter and other families. For Anne, the latter was not an option.
Order your copy now, raise your awareness about the legal system and your rights, and learn that with the correct approach you can make a difference.
-------------------------------------
A Note From the Author:
Clear Her Name is a true story that resonates with When They See Us, a 2019 American crime drama television miniseries by Ava DuVernay for Netflix based on events of the 1989 Central Park jogger case which explores the lives and families of the five male suspects who were falsely accused then prosecuted on charges related to the rape and assault of a woman in Central Park, New York City; and For Life, an American legal drama television series created by Hank Steinberg that premiered on ABC. The series is loosely based on the true story of Isaac Wright Jr. who was imprisoned for a crime that he did not commit. While incarcerated, he became an attorney and helped to overturn the wrongful convictions of twenty of his fellow inmates, before finally proving his own innocence.