Billy The Fish Saves The Day (Hardcover)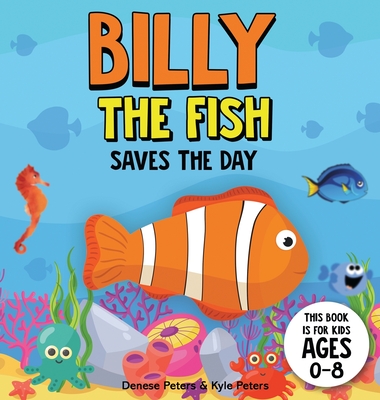 $24.99

usually available in 3-7 days
(This is a special order book which cannot be returned.)
Description
---
JOURNEY WITH BILLY THE FISH UNDER THE SEA, AND SEE HOW HE DEFENDED HIMSELF AND HIS FRIENDS WHEN THE MEANEST SHARK IN THE OCEAN WANTED TO EAT THEM ALIVE.
Billy, a little fish, wanted to become a superhero. His friends laughed at him when he told them, which made Billy sad. One day Billy's dream came through when he selflessly protected his friends from Ripper, the meanest, fiercest, and grumpiest shark in the ocean.
This children picture book includes:
64 pages with the illustrations on the right side and the text on the left side
Trim size 8.5 x 8.5 inches
Cover - glossy finish with premium paper
"This book belongs to" page
About the Authors
Kyle Peters is a bubbly 11-year old boy when we published this book] who loves Math, Science, Music, ELA (English language Arts), food, little kids, and animals. He often talks about becoming a veterinarian and a teacher when he grows up. His inquisitive mind causes him to always researching on the computer how things work. He co-authored "Billy the Fish Saves the Day" with his mommy, Denese. He wants to let all the children across the globe who are being bullied know that it is okay to stand up to the bullies and let their parents, teachers, guardians, and other adults know that they are being bullied.
Denese Peters is a child of God, minister's wife, author, mother of two young men, former Bible class teacher, and entrepreneur. Denese cherishes the idea of writing to inspire others and help them be a better version of themselves. She loves God, books, people, nature, and traveling. Denese has over 30 nonfiction, low content, and no content books combined published on Amazon. She co-authored "Billy the Fish Saves the Day" with her little boy, Kyle. Denese hopes this little book will inspire, motivate, and encourage little boys and girls who aspire to be someone great, and to let those who bully them know they are special, enough, strong, not afraid, and that they matter.