To Boston with Love (Hardcover)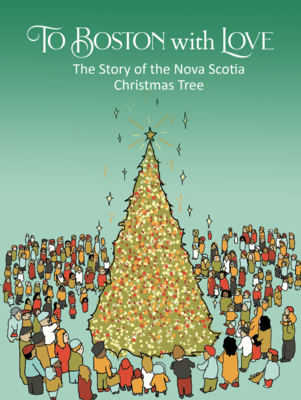 $14.95

Coming Soon - Available for Pre-Order Now
Description
---
Every year Nova Scotia sends the people of Boston its most beautiful Christmas Tree. The tree is a gift that honors Boston's response to the Halifax Explosion of December 1917, when two tramp steamers collided in wartime Halifax Harbor, creating what became the largest man-made explosion of its time.
The explosion levelled almost half the city, leaving leaving almost a third of the population homeless or without adequate housing. Thanks to the people of Boston, Halifax would rebuild again, and a bond was built that endures to this day.
With bright illustrations and simple text, the book tells the story from the point of view of the first Boston Christmas Tree, which stood witness to the terrible tragedy and the triumphant redemption of the spirit of generosity. A wonderful holiday reminder that grace and giving in the face of disaster can unite people and that the darkest days give way to light.
Originally released as The Little Tree by the Sea (9781772760699), this new edition includes updated illustrations, backmatter on the historic event, and photographs.