She Holds Up the Stars (Paperback)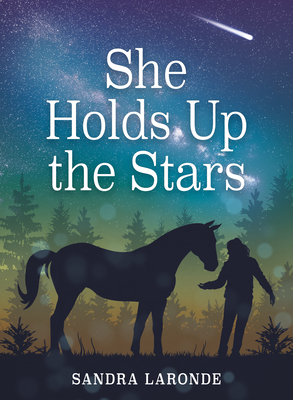 $9.95

Coming Soon - Available for Pre-Order Now
Description
---
A young Anishinaabe girl navigating grief and trauma finds strength in her unique gifts and her deepening connection to cultural teachings and the land in this moving coming of age story.
Twelve-year-old Misko is conflicted about spending the summer with her grandmother on the rez--she doesn't want to leave her friends in the city behind, but at the same time, she feels strangely compelled to go. The strange dreams she's been having are rooted there, tugging at her to come home. Maybe she can finally find out what happened to her mother, who disappeared when she was four years old. When Misko arrives, she finds that there are even more reasons to stay--the beautiful horse she finds herself drawn to, for one. His true name, Mishtadim, comes to her much like one of her dreams. But Mishtadim is being violently broken in by the rancher next door and his son, Thomas. Misko and Thomas's cautious bond centers around the treatment of the horse but reveals much more as they challenge their assumptions about one another: their connection to the land, what it means to be at home. Most of all, Mishtadim might just reveal something about Misko's mother--and about the family Misko thought she had lost.
Misko is a powerful story about the interwoven threads that connect us to family, to the land, and to our own sense of self.
About the Author
---
SANDRA LARONDE is originally from the Teme-Augama-Anishinaabe (People of the Deep Water) in Temagami, Northern Ontario. An accomplished arts innovator and cultural leader, Sandra has conceived, developed, produced, and disseminated many award-winning productions. She is the founder, and Executive and Artistic Director, of Red Sky Performance, www.redskyperformance.com, a leading company of contemporary Indigenous performance worldwide.