Off Grid Living: A Starter Guide For Anyone Thinking About A Self-sufficient Living (Step-by-step Guide From Planning To Building A Hom (Paperback)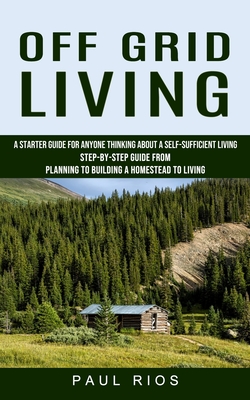 $19.95

usually available in 3-5 business days
(This is a special order book which cannot be returned.)
Description
---
Do you dream of leaving the real world behind and leading a simpler life? More and more people are choosing to live off grid, growing their own food, and providing their independent electricity. Achieving this life transformation may seem daunting, but it's the ideal path to a calmer, more peaceful existence.
Here is what this unique, living off the grid guide can offer you:
Putting an idea in writing - simple instructions for making a foolproof plan that is guaranteed to succeed
Math behind the plan - find out how to plan all the costs you'll have when setting up your off-grid sanctuary and to secure the money you need
Flawless execution - discover the easiest way to make your sanctuary as comfortable as you can with guides on securing water, food, power, and heat sources
And much more
The health benefits associated with living off-grid were really the inspiration behind this book. I'm not a health professional, but i know my health has noticeably improved ever since i began living off-grid. You too can improve your physical and mental health by choosing to stay off-grid.
Chances are, you already have a vision for your future lifestyle, and if so, grabbing a copy of this book is the first baby step in your journey.
I encourage you to take your time to learn all the concepts. You too can escape city life and start living off-grid for better health and a stress-free life.