Parenting - You Will Never Pee Alone Again: Therapeutic Comics For Very, Very Tired Moms and Dads (Summer and Muu Collection) (Paperback)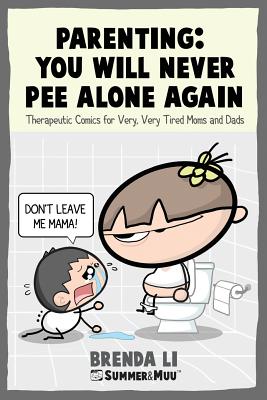 $15.99

usually available in 3-7 days
(This is a special order book which cannot be returned.)
Description
---
"Summer and Muu comics are super witty and funny They speak the truth and any parent can relate." - Alex Huang, CTV Vancouver News Director
By the award-winning artist and popular Facebook/Instagram cartoonist, Brenda Li, Summer and Muu Comics are followed by over 53K fans as her comics are hilarious and therapeutic. Let's be real, you feel better when you see other parents struggling too *evil cackle*.
'Parenting - You Will Never Pee Alone Again' shows that parenthood is heaven and hell - any parent can relate. Kids are predictably unpredictable and consistently inconsistent, and these Summer and Muu comics illustrate exactly that. These cartoons also remind us of how much we love our kids and it doesn't matter what they do, our love for them is unconditional. This book is definitely a page-turner - you will laugh, like out loud.
This book contains over 100 comics, including fan favorites and brand new never been seen before cartoons. Are you a new parent, a tired parent, an impatient parent, or all of the above? Are you are a pregnant mom, or know someone who is brave enough to want to get pregnant? This book is perfect If you like Fowl Language, New Mom Comics and Rory the Dinosaur, you would definitely love this book.
Brenda Li, the award-winning artist behind Summer and Muu Comics, was born in Hong Kong. She moved to Vancouver with her family at a young age. Known for her funny web comics, she has been featured on HuffPost Parents, television, radio, and magazines. Brenda graduated from The University of British Columbia studying Economics. But soon she knew she was not a number person, so she started learning graphics, animation and visual effects on her own. Not only has she become a cartoonist and a motion graphic designer for major TV networks, but Brenda was also a Visual Effects Artist for Hollywood films such as Transformers 3, Thor and Tron: Legacy. Her 15 years of professional experience in the creative entertainment and broadcast industry allows her to create iconic characters as she finds humour in common parenting chaos.