World War II Tactical Camouflage Techniques (Elite) (Paperback)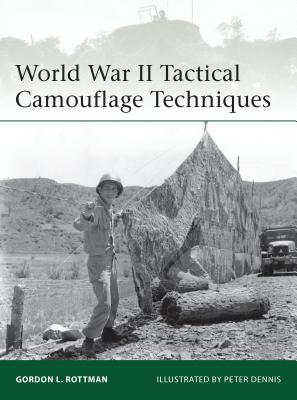 $18.95
Special Order - may be out of print
Other Books in Series
This is book number 192 in the Elite series.
Description
---
Camouflage at the tactical level - i.e. by individual soldiers and small units - was standard practice for all World War II armies, since battlefield camouflage was one of many tactical techniques and skills essential for survival, and for the success of both defensive and offensive operations. Nevertheless, it was often poorly taught during training, and - at first - neglected by units under pressure of events. Troops therefore had to learn the hard way just how essential it was to master these techniques, given the long effective range of weapons and the effectiveness of enemy reconnaissance.
This book explains and illustrates the actual materials and techniques adopted (both successfully, and unsuccessfully) by tactical units - i.e. the concealment of personnel, weapons, equipment, field positions, and movement by infantry riflemen and weapons crews, artillerymen, and vehicle crews. It covers all areas and seasons in the European and Mediterranean theaters of operations, for the US, British, German, and Soviet armies. It includes camouflage of the person, personal equipment, and weapons; natural materials and "expedient" techniques; issued camouflage materials such as nets, ponchos, etc; the principles of camouflaging equipment and vehicles, of positioning and terrain integration, the effects of light and shadow, and the use of decoy and dummy positions.
Featuring meticulous full-color artwork and specially selected period photographs, this absorbing study casts new light on the camouflaging techniques developed by the major armies of World War II on a host of European battlefields.
About the Author
---
Gordon L. Rottman entered the US Army in 1967, volunteered for Special Forces and completed training as a weapons specialist. He served in the 5th Special Forces Group in Vietnam in 1969–70 and subsequently in airborne infantry, long-range patrol and intelligence assignments until retiring after 26 years. He was a Special Operations Forces scenario writer at the Joint Readiness Training Center for 12 years and is now a freelance writer, living in Texas.

Peter Dennis was born in 1950. Inspired by contemporary magazines such as Look and Learn he studied illustration at Liverpool Art College. Peter has since contributed to hundreds of books, predominantly on historical subjects, including many Osprey titles. A keen wargamer and modelmaker, he is based in Nottinghamshire, UK.
Praise For…
---
"In OSPREY's World War II Tactical Camouflage Techniques, author Gordon L. Rottman explains the various materials and techniques adopted by Army tactical units. Rottman begins his narrative with a short introduction recapping how sophisticated weaponry necessitated developing camouflage practices after World War I. Subsequent segments on specific camouflage resources and methods dominate this handy reference.  Here, the author covers essentials of US, British, German and Soviet practices – from the individual soldier to artillery emplacements in the European and Mediterranean theaters of operation." —Rachel E. Veres, www.cybermodeler.com (April 2013)
"...pairs vintage black and white photos with color illustrations by Peter Dennis in the course of exploring military camouflage history. Detailed artwork and history considers US, British, German and Soviet practices, and offers a fine focus on camouflage techniques and their evolution." —The Midwest Book Review (May 2013)