US Heavy Cruisers 1941–45: Pre-war Classes (New Vanguard) (Paperback)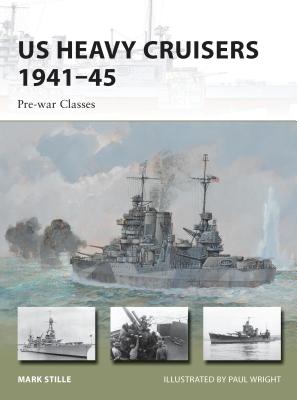 $19.00

usually available in 3-5 business days
Other Books in Series
This is book number 210 in the New Vanguard series.
Description
---
American Navy cruisers built prior to World Wat II saw extensive action throughout the Pacific War, in both surface actions like Guadalcanal, and carrier battles like Midway.

Designed and produced under the regulations of the Washington Naval Treaty, the heavy cruisers of the Pensacola, Northampton, Portland, New Orleans and Wichita classes were exercises in compromise. While they possessed very heavy armament, the Pensacolas, for example, carrying a main battery of ten 8" guns, this came at the cost of protection - armor was the same thickness as a gun cruiser, and incapable of protecting the vessels from enemy 8" fire. As the classes evolved, these flaws began to be corrected, with the main battery being reduced, and increased protection being added to the vital areas of the ship. Despite these drawbacks, the pre-war heavy cruiser classes served with distinction throughout World War II.
About the Author
---
Mark E. Stille (Commander, United States Navy, retired) received his BA in History from the University of Maryland and also holds an MA from the Naval War College. He has worked in the intelligence community for 30 years including tours on the faculty of the Naval War College, on the Joint Staff and on US Navy ships. He is currently a senior analyst working in the Washington DC area. He is the author of numerous Osprey titles, focusing on naval history in the Pacific. He is also the author of several wargames. The author lives in Dunn Loring, VA.
Praise For…
---
"This is an excellent book presenting American pre-war heavy cruisers for historians, modelers and illustrators with an interest in the subject. The graphic support -- photographs, artwork, profiles and tables -- alone are worth the price of the book. Highly recommended!" —Frederick Boucher, Model Shipwrights

"Photos, charts, extended captions and selected bibliography supplement author Stille's admirably indexed effort.  Color profiles and action paintings offer plenty of modeling inspiration.  And a helpful 'analysis and conclusion' neatly ties things up.  It's a superb summary of a spellbinding subject." —David L. Veres, www.cybermodeler.com