US Heavy Cruisers 1943–75: Wartime and Post-war Classes (New Vanguard) (Paperback)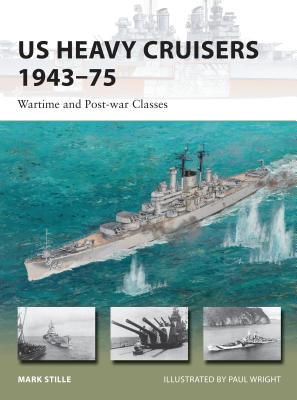 $19.00

Special Order - may be out of print
Other Books in Series
This is book number 214 in the New Vanguard series.
Description
---
US Heavy Cruisers provides a detailed, illustrated look at the wartime and post-war-built heavy cruiser classes of the US Navy of World War II.

Fast and heavily armed, the Baltimore class was an evolution of the heavy cruiser designs from before World War II, but without the limitations imposed by the Washington Naval Treaty. Versatile vessels, the heavy cruisers of the Baltimore class, and their successors in the Oregon City and Des Moines classes, commonly acted as carrier escorts throughout World War II, but also performed bombardment duties in support of amphibious landings. Post-World War II, the heavy cruisers continued to see service, chiefly in Korea and Vietnam. Even after the heyday of the heavy cruiser had passed, the ships continued to serve - several were converted into the earliest examples of guided missile cruisers, and established an enduring legacy in the US Navy.
About the Author
---
Mark Stille (Commander, United States Navy, retired) received his BA in History from the University of Maryland and also holds an MA from the Naval War College. He recently concluded a nearly 40-year career in the intelligence community including tours on the faculty of the Naval War College, on the Joint Staff and on US Navy ships. He is the author of numerous Osprey titles focusing on naval history in the Pacific.

Paul Wright has painted ships of all kinds for most of his career, specializing in steel and steam warships from the late 19th century to the present day. Paul's art has illustrated the works of Patrick O'Brian, Dudley Pope and C.S. Forester amongst others, and hangs in many corporate and private collections all over the world. A Member of the Royal Society of Marine Artists, Paul lives and works in Surrey.
Praise For…
---
"Following and complimenting US Heavy Cruisers 1941–45: Pre-War Classes, this book explores their background, weapons, radar, wartime and Cold War service. Another usefully excellent book presenting American wartime heavy cruisers for historians, modelers and illustrators with an interest in the subject." —Model Shipwights

". . . make[s] an excellent addition to any bookshelf." - Northern Mariner