Cross Stitch Wildflowers and Grasses: 32 beautiful botanical motifs to hand stitch (Paperback)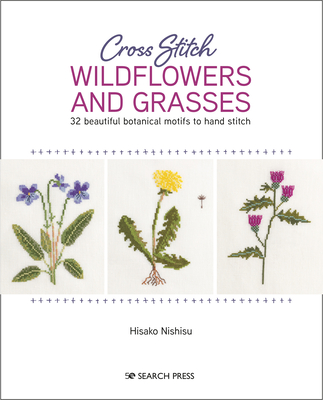 Description
---
32 elegant cross stitch designs of wildflowers and grasses from renowned embroidery artist Hisako Nishisu.

Embroidery artist Hisako Nishisu invites you to try her new collection of elegant cross stitch designs, inspired by the beauty and simplicity of wildflowers and grasses. There are over 30 stunning motifs to choose from, so whether you admire the lily of the valley or the violet, or prefer to stitch the Japanese silverleaf, there is sure to be a project that will catch your eye.

After a gallery of beautifully photographed embroideries, a cross stitch overview is provided outlining the tools, materials and techniques needed for completing these charming samplers. This is followed by a clear, full-page chart for each design.

Once your floral sampler is finished, frame it and hang it for a beautiful addition to any room, or use the designs to add pretty motifs to your linens, clothing and accessories.
About the Author
---
Hisako Nishisu studied European embroidery under Fumie Itagaki. She is the director of JACA (the Japan Art & Craft Association) where she is involved in promoting the practice of European embroidery and training the next generation of embroiderers. Her motto in her work and instruction in her classes is 'enjoyable embroidery, exciting creation'. She is the author of books on drawn thread work and Schwalm embroidery in her home country of Japan.
Praise For…
---
Postcard Reviews August 2020

I absolutely adore cross stitch and this book is a beauty.
Over 30 botanical motifs, including Dandlion, Japanese primrose and many more are yours to use to decorate and adorn your home.
The first part of the book showcase each design stitched and finished. There are techniques, stitch guide and things you will need to start your cross stitching journey and then there are the cross stitching charts.
All the designs are stitched using DMC thread, but you can use your own choice of threads and colours.
The designs in this book would make a stunning sampler, but can also be used to descorate hand towels, aprons and napkins.
All the designs are both elegant and stunning.
Happy cross stitching!
5/5