Why the Germans Do it Better: Notes from a Grown-Up Country (Hardcover)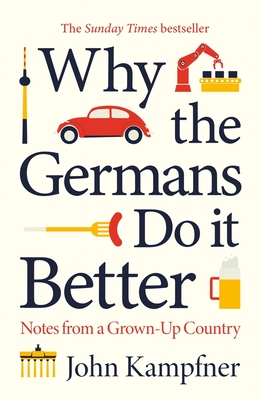 $27.95

Special Order - may be out of print
Description
---
Emerging from a collection of city states 150 years ago, no other country has had as turbulent a history as Germany or enjoyed so much prosperity in such a short time frame. Today, as much of the world succumbs to authoritarianism and democracy is undermined from its heart, Germany stands as a bulwark for decency and stability.

Mixing personal journey and anecdote with compelling empirical evidence, this is a critical and entertaining exploration of the country many in the West still love to hate. Raising important questions for our post-Brexit landscape, Kampfner asks why, despite its faults, Germany has become a model for others to emulate, while Britain fails to tackle contemporary challenges. Part memoir, part history, part travelogue, Why the Germans Do It Better is a rich and witty portrait of an eternally fascinating country.
About the Author
---
John Kampfner is an award-winning author, broadcaster and foreign-affairs commentator. He began his career reporting from East Berlin (during the fall of the Wall) and Moscow (during the collapse of communism) for the Telegraph. After covering British politics for the Financial Times and BBC, he edited the New Statesman. He is a regular TV and radio pundit, documentary maker and author of five previous books, including the bestselling Blair's Wars.
Praise For…
---
"Despite the polemical title, this is a thoughtful, even-handed introduction to modern Germany." The Times

"Excellent and provocative... a passionate, timely book". - Sunday Times

"A fine new book... One of the best English-language introductions in recent years to modern Germany and its politics: thoughtful, deeply reported and impeccably even-handed." The Times 

"A rich guide to modern Germany... For the British readers this book is directed at, the implied contrasts are startling. German conservatism produced Angela Merkel, easily the most respected democratic leader in the world, while the English variety produced Boris Johnson. - Guardian

"Highly readable and well-informed... [Kampfner] mixes historical sweep with vivid reporting to celebrate Germany's strengths and achievements. - Financial Times

"A revelation of a book... with insights based on painstaking research and evidence gleaned from months crisscrossing the country... Kampfner's analysis is simply peerless. - Literary Review 

"A nuanced but compelling account... Kampfner marshals a convincing argument that other countries would be foolish to ignore Germany's emotional maturity and solidity. - New Statesman 

Authoritative, timely and courageous, this is a compellingly readable book that raises profoundly important questions on history, our times and the future. - Philippe Sands, bestselling author of East West Street and The Ratline 

A lively, affectionate portrait... A paeon to Germany. - Irish Times

Passionate yet carefully argued, Why The Germans Do It Better is a must-read. - James Hawes, author of The Shortest History of Germany 

We need a great book on Germany as the Merkel era ends: this is that book. It confronts the country's history, and charts with authority and affection its modern course with lessons for us all. - Lyse Doucet, BBC Chief International Correspondent

Kampfner's admiration of what post-war Germany has achieved doesn't blind him to her imperfections. Why the Germans Do It Better abounds with sharp analysis and telling anecdotes. A lively, very readable introduction to a country we ought to understand a lot better than we do. - David Lidington

Kampfner roams widely in Germany and has a reporter's ear for the telling anecdote. He knows his history too. - Lionel Barber, The Spectator 

There is plenty of good material here and the timing is impeccable. - TLS

Germany's success in tackling the great pandemic of 2020 has surprised many. John Kampfner shows why it should not have done so. This is a compelling account of how, in two generations, a country adopted the principles of liberal democracy, then mastered them, and now has more to teach us than we might wish to admit - Baroness Catherine Ashton, former EU High Representative and former Leader of the House of Lords