Lonely Planet Hebrew Phrasebook & Dictionary 4 (Paperback)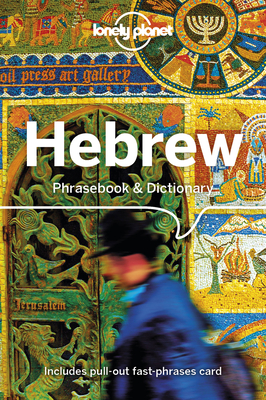 Description
---
Lonely Planet: The world's leading travel guide publisher
Anyone can speak another language! It's all about confidence.
Israelis love to chat, so don't be surprised - or caught out - if a total stranger starts up a heated discussion while you wait at a bus stop or felafel stand. An ancient language, Hebrew is the lingua franca of this most cosmopolitan of countries. Whether on a working holiday or on pilgrimage to the Holy Land, this book is an essential companion into the fascinating life of Israel.
Never get stuck for words with our 3500-word two-way dictionary
Order the right meal with our menu decoder
Avoid embarrassing situations with essential tips on culture & manners
Coverage includes: Basics, Practical, Social, Safe Travel and Food.
Lonely Planet gets you to the heart of a place. Our job is to make amazing travel experiences happen. We visit the places we write about each and every edition. We never take freebies for positive coverage, so you can always rely on us to tell it like it is.
Authors: Written and researched by Lonely Planet, Justin Ben-Adam Rudelson, and Klara Ilana Wistinetzki.
About Lonely Planet: Started in 1973, Lonely Planet has become the world's leading travel guide publisher with guidebooks to every destination on the planet, as well as an award-winning website, a suite of mobile and digital travel products, and a dedicated traveller community. Lonely Planet's mission is to enable curious travellers to experience the world and to truly get to the heart of the places they find themselves in.
'Lonely Planet guides are, quite simply, like no other.' - New York Times
'Lonely Planet. It's on everyone's bookshelves, it's in every traveller's hands. It's on mobile phones. It's on the Internet. It's everywhere, and it's telling entire generations of people how to travel the world.' - Fairfax Media (Australia)