Being Your Cat: What's really going on in your feline's mind (Paperback)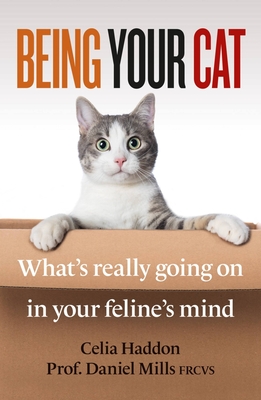 $16.99

usually available in 3-5 business days
Description
---
Renowned cat expert Celia Haddon puts the reader inside the mind of their cat, to show them how they think, feel and experience the world.

Ever wondered why your cat won't sit on your lap? Why she would suddenly watch the football on television, how she sees the world and what she thinks of you and your family? Prepare to enter the mind of your cat and revolutionize the way you see the world and your enigmatic pet.

Bestselling cat author Celia Haddon and veterinary expert Professor Daniel Mills take you into the mind of your feline and, drawing on the latest scientific research, describe how your cat experiences the world. This is a unique book drawing on a wealth of veterinary science and studies, which relays those findings in a way that will amuse and delight owners. By placing you in the mind of your cat you will know what it's like physically, empirically, psychologically and emotionally to be your cat.

Being Your Cat will fascinate and surprise those who wish to know the secret world of cats and reveals how their experiences don't always stray far from our own.
About the Author
---
Celia Haddon (Author)
Celia Haddon was the Daily Telegraph pet agony aunt whose knowledgeable yet sentimental column delighted cat lovers. She has sold somewhere between one to two million books. A cat behavior practitioner with the Centre of Applied Pet Ethology, she has a B.Sc. in applied animal behavior.

Daniel Mills, FRCVS (Author)
Professor Daniel Mills is a practicing veterinary surgeon and academic at the University of Lincoln who specializes in the management of problem behavior and the human-animal bond. He runs the podcast What Makes You Click?, which features chats with inspirational friends in the field of animal behavior he has had the benefit of getting to know over the course of his career.

He shares his home with his human family and a rescue cat called Mika amongst other animals.