Procrastination: 7 Steps to Beat Procrastination and Increase Your Productivity (Procrastination Series Book 1) (Paperback)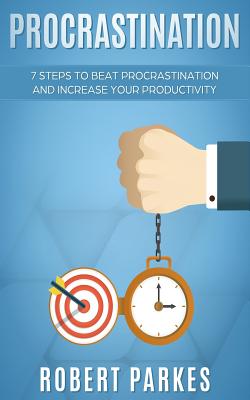 $13.38

usually available in 3-5 business days
(This is a special order book which cannot be returned.)
Description
---
Do you feel frustrated because you can't seem to finish your daily to-do lists? Do you feel discouraged, over-distracted or overwhelmed because you're not effectively accomplishing the most important things?
This book is all about overcoming procrastination and increasing productivity. It tells you about the exercises you can do to improve your focus and increase your motivation. It also tells you how you can achieve success through various methods and techniques. In addition, it gives practical advice and examples so that you can be guided accordingly. It is straightforward, easy to understand, and written in great detail. In this book Robert shares what he's learned over the course of his career and he shows how to work faster and manage situation effectively. He'll show you how to overcome your tendency to put off important activities and take action that increases your productivity at work and in life. Here is what you will learn:
- The 11 causes of procrastination and how to overcome them;
- How to beat procrastination and get things done almost immediately;
- 15 effective ways and actionable steps to increase focus, concentration and productivity;
- Great tips on how to effectively set goals;
- Studies on top performers;
- 3 visualization techniques to accomplish anything;
- Pratical steps on how to practice visualization for releasing your brakes almost overnight;
- Importance of taking action;
- Importance of time management;
- Benefits and effects of time management;
- 5 ways to manage time wisely to work smarter;
- And much more.. If you want to want to have a significant change in your life, you can start by reading this book. It will help you learn about everything you need to know about procrastination as well as discuss the steps that you have to take in order to overcome it.
Do not wait until it is too late. Arm yourself with ample knowledge and take control over your life. Would You Like To Know More?
Scroll to the top of the page and select the 'buy button'. All the best
Robert Parkes.