Classic Horror Oracle (Cards)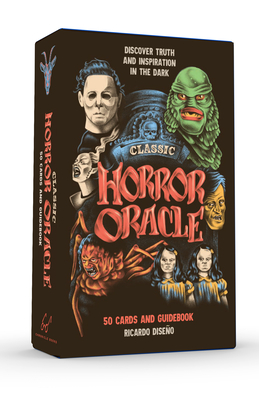 $19.95

usually available in 3-5 business days
Description
---
Discover truth and inspiration in the dark with the
Classic Horror Oracle
deck.
This uniquely entertaining and beautifully creepy oracle deck harnesses the energies and dark truths revealed in iconic classic horror movies to find guidance, discover inner resources, and cultivate inspiration. Each of the 50 carefully selected films is represented by an evocative mini-movie-poster-style illustration from celebrated artist Ricardo Diseño, with an oracular theme for divination called out.
Whether it's
Nightmare on Elm Street
(dreams),
Night of the Living Dead
(hunger),
Carrie 
(celebration),
Hereditary
(family), or any of the others frightful films depicted, each card pulled by the seeker is given context and meaning in imaginative, fun, and revealing text readings featured in the fully illustrated 120-page accompanying booklet.
NEW AND ESTABLISHED HORROR MOVIE CLASSICS: Films include
Häxan
,
Creature from the Black Lagoon
,
Get Out, The Thing
,
Re-Animator
,
Nosferatu
,
Alien
,
Eyes without a Face
,
Psycho
,
Ringu
,
The Babadook
,
An American Werewolf in London
,
The Blair Witch Project
,
Night of the Living Dead
,
Hellraiser
,
Poltergeist
,
The Wicker Man
, and dozens more, each with their own oracular guidance to offer.
STUNNING ARTWORK: Custom illustrated cards for all 50 films/themes in this oracle deck with guidebook capture the fear and fun of each movie.
FIND INSPIRATION: Draw a card to read into your future or guide your scary movie viewing for a Saturday night.
Perfect for:
Horror and horror-movie fans
Fans of Shudder, Criterion, TCM, Mondo, Waxworks
Oracular seekers with a taste for darker truths
Collectors of novelty oracle and tarot cards
About the Author
---
Ricardo Diseño is an illustrator and poster designer based in Austin, Texas, who has done work for The New Yorker, the Criterion Collection, The New York Times, Refinery29, Illustoria, Spoke Art, Chronicle Books, and many others.
Praise For…
---
"[F]or those of us who embrace the dark iconography of horror films, it offers a unique opportunity for self-discovery and growth. As you delve into the cards, remember that horror has always been a mirror to our truest selves and the insights thereof. So, if you're ready to explore the depths of your own psyche and embrace the shadows that dwell within, the Classic Horror Oracle deck might just be the key to unlocking a world of hidden truths and untold mysteries!"
—Snuff Out the Light
"Not necessarily as dark or complex as tarot cards, the Classic Horror Oracle card deck is a great addition to any horror fan's collection. The artwork by Diseño is vivid, and wonderfully sums up what makes the films so iconic. Meanwhile, Mockus has done a great job assigning meaning to each film that ties in with their themes and characters. It all comes together to make a really nice set that is worth checking out."
—ComingSoon
"Ricardo Diseno has gorgeously illustrated 50 dark oracle cards with goth-style inspiration from classic movie characters and creepy themes."
—Cool Mom Picks