Viking Knits: Over 40 Scandi knits for men, women & children (Hardcover)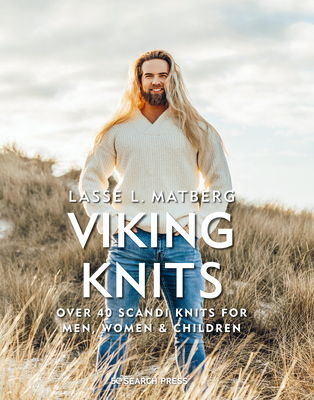 Description
---
Over 40 traditional and modern Norwegian knitwear patterns for all seasons and all the family. From Internet sensation Lasse Matberg.

"This book offers intermediate and experienced knitters an inspiring guide to create eye-catching, durable knitwear that will never go out of style". - Publishers Weekly
Lasse L. Matberg comes from a family who, for generations, have been working to create beautiful, quality crafted items by hand.
Viking Knits
is a tribute to good-quality, practical needlework, inspired by the Vikings' warm, all-weather garments.
Discover and knit over 40 items for men, women, and children, designed for all occasions and seasons. From tough-wearing sweaters and outerwear to elegant cardigans and jackets, all have made been made in a quietly beautiful Scandinavian style. Whether you love traditional, Nordic colorwork patterns and cables, or modern, textured knits, there is something for everyone.
18 men's sweaters
9 women's sweaters
6 children's sweaters
10 cozy accessories
"... it will be the rare sweater lover who doesn't find something on these pages that they'll yearn to make.
Library Journal , Oct 01, 2022
About the Author
---
LASSE L. MATBERG enlisted in the Royal Norwegian Navy in 2006 after working as a full-time chef. After graduating as a lieutenant, He now serves as a sports officer in Stavanger, Norway, where he works as a fitness instructor for recruits. Lasse also works part-time as a model.
Lasse has gone on to win the Norwegian reality show, Farm Celebrity, in 2021, and Italian Shall We Dance in 2019. He is known as 'the viking', and under the name @lasselom he has over a million followers on social Media. In adition, he and the book's collaborator, Strikkemekka, have launched their own Instagram account @lasse_strikk

He was born in Verdal and lives in Stavanger.

Praise For…
---
Publishers Weekly BookLife
This is not up for debate: bearded, golden-haired social media star Matberg looks amazing in a sweater. He shares his knack for creating hand-knitted, all-occasions attire in this attractively illustrated and informative new craft book. The how-to guide offers more than 30 patterns along with detailed instructions to create "Scandi knits" for men, women, and children, with the designs inspired by Matberg's Viking heritage. Sweaters are divided into categories—knits for the great outdoors, cozy accessories, stylish knitwear—and flagged according to level of difficulty, though aspiring knitters should pick up at least some experience before attempting any of these patterns.

Throughout the book, Matberg mostly models his own creations, clearly demonstrating why he has more than 700,000 followers on Instagram. It's not just his sun-kissed visage. The crisp, colorful photographs show Matberg and company engaged in outdoorsy activities like sitting on a sailboat, wandering dreamily through tall grasses, and nuzzling horses, clad in his appealing knitwear. Matberg's brief descriptions of each sweater are simple yet charming: "this sweater is heartwarming in every sense, partly because the pattern looks like little hearts and partly because it's good and warm," he writes of his green, gorgeous Heart Sweater, an exemplar of masculine coziness.

Some garments will stand up to a day of rough outdoor exploration while others are more elegant, and some utilize traditional Nordic patterns while others have a more contemporary feel. Still, Matberg's overarching goal is creating versatile clothing that can be worn in tough and unpredictable climates, as he was born and raised in Norway. From a family of craftspeople—sheet metal workers, shipbuilders, and shoemakers, as well as avid knitters—Matberg celebrates and extends a heritage of creativity, with an online twinkle. This book offers intermediate and experienced knitters an inspiring guide to create eye-catching, durable knitwear that will never go out of style.
--Publishers Weekly, BookLife 10/10/22

Norwegian influencer Matberg teams up with knitting brand Strikkemekka for an impressive array of Scandinavian knits in this cozy collection. The projects epitomize Scandinavian chic: the first section, "The Best Everyday Sweaters," features a gray "Power Sweater" and a chunky V-neck "Lasse Sweater." A selection of "Stylish Knitwear" includes such standouts as the "Queen Coatigan," a long, open cardigan with "decorative balloon sleeves and chunky cables," and the "Wave Sweater," with small cables that mimic waves. Among the "Norse Sweaters" are a turtleneck tunic pattern and the cable-knit "Viking," which will have readers "ready for sitting at a long table with a glass of mead." The children's garments avoid the cloyingly cute and rely instead upon adapted versions of adult designs: there's a patterned "Mountaintop" sweater and a colorful "Sailor Sweater" with a matching hat for youngsters. Matberg's patterns are best suited for intermediate and advanced crafters, though beginners who want a challenge will be able to keep up thanks to the straightforward directions: patterns are both written and charted, and each project is labeled by difficulty, so the less experienced will know where to start. Crafters ready to up their sweater game need look no further. (Nov.)
--Publishers Weekly, October 2022

A Beautiful book with amazing pictures. I love how the book gets right to the point of the projects and not too much basic knit knowledge. If you buy this book, you know how to knit already and don't need that. Also the projects are beautiful and if you have the skill, you will definitely want to knit the item.
-- The Novel Neighbor Bookstore

Oh my gosh, what a beautiful, useful, well-built book! Patterns are all gorgeous and eye-catching with well written instructions and easy pattern charts for difficult or colorwork stitches. And everything looks like it feels amazing!! I can't wait to cast on my first sweater from this book.
-- Demi Marshall

Interests in Scandinavian culture, Norse myths, and Vikings are on the rise. A celebrity in Europe, Matberg, a model, trainer, and winner of Farm Celebrity and Shall We Dance, collaborates with Strikkemekka, a knitting company based in Norway, to meet the moment by offering 30-plus Nordic patterns for sweaters, jackets, hats, scarves, and sitting mats. The bulk of the designs skew to sweaters for men and offer sizing from small to beyond XXL (called "Lasse" size). Nine patterns are marked for women (sizes small through XXL), including a lovely Fair Isle design. Six are worked for children's sizing (ages two to 12). Most of the designs are classic outdoors wear. All are stylish, gaining a punch from repeated pattern work, a few cables, and ribbing. Pitched to experienced knitters, instructions are clearly written, and charts are provided for color work and some pattern changes. Every design uses one of three Gann Garn yarns and also details the type and gauge of yarn the pattern requires.
VERDICT Don't expect the intricacy and history of Elsebeth Lavold, but it will be the rare sweater lover who doesn't find something on these pages that they'll yearn to make.
-- Reviewed by Neal Wyatt , LIBRARY JOURNAL Oct 01, 2022