Toddler Parenting: 2 Books In 1: Toddler Discipline + Positive Parenting. A Complete Guide for Moms and Dads to Decode Their Children's S (Hardcover)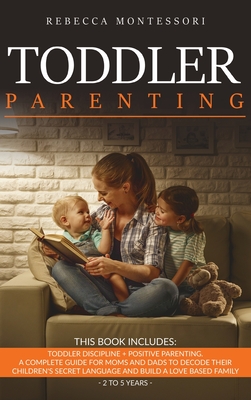 $38.00

Special Order - may be out of print
Description
---
Are you looking for a simple and essential guide to find solutions for small and large everyday problems in the education and the discipline of your child? Do you want to learn the strategies and tips to develop a positive, secure, and kind attitude in your child?
These books are here to provide you with many of these such methods.
The feeling of having a child is beautiful and unique. But it is crucial to know that babies need special care and that care begins right from the moment of their birth.
From the very first day, attention must be paid to dealing with the baby, even to create a bond with both the mother and the father, since this is essential for the development of the child. For you to be prepared with the arrival of your little one, I've crafted these fantastic books that help you cover up all the essential steps to parenthood and what you need to do to raise your baby well.
When you are parenting a toddler, it is important to stay consistent with major keys like communication, discipline, structure, and boundaries, but also to remember that you're human. As self-described moderates in parenting, our family does not always do everything the same way, and that's okay. We do our best, count our successes, and learn from the tantrum-filled moments.
In reading these books, you will be guided through what to expect with your toddlers when they do thrown tantrums, as well as what the most common reasons they thrown tantrums are. You will learn how to stop and identify if the tantrums that you are seeing are due to your own unrealistic expectations that will need to be altered for the benefit of everyone involved.
These books will focus on the following:
- Mindful Parenting
- Environment of your Child
- Parenting Styles
- How to be their Gentle Leader
- Teamwork - Getting Mom, Dad and Toddler on the Same Page
- The World Through the Eyes of a Toddler
- Everyday Solutions to Parenting Problems
- When to Say Yes and When to Say No
- How to solve Conflicts
- Strategies to establish the discipline
- Effectively communicating with your toddler
- Handling everyday situations
- Keys to success
- How to talk to and listen to your toddler
- Why some toddlers have a hard time sleeping
- Sleep training
- Implement positive discipline for toddlers
- Discipline mistakes and how to avoid them
...And much more
Each chapter talks about a vital topic with tips and strategies to handle toddlers. It is your job to put aside personal feelings and comfort to do what is good and right for the child and help him overcome growth challenges, tame tantrums, and influence desirable behavior.
Having a child is one of life's greatest moments. Seeing them for the first time can be like a moment frozen through all of eternity. How could you ever imagine the love you have for a child before you even get the chance to be a parent yourself? That is what is going to be the most important thing to remember throughout your new methods of parenting. You are already a good parent, and any mistakes made in the past were learning experiences for both of you.