Dark Psychology and Manipulation for Beginners: The Only Techniques You'll Ever Need to Analyze and Manipulate People Like an Hypnosis Expert! (Hardcover)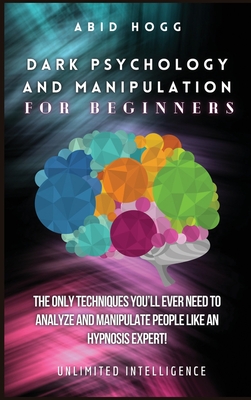 $36.99

usually available in 3-7 days
(This is a special order book which cannot be returned.)
Description
---
The truth is: you have no choice. You have no alternative.
If you have kids or a dog, you can easily understand why. Just think about how many unnecessary toys and gadgets you buy even if they don't really need them.
Except for the basic goods that you buy because you have no choice, all other purchases are manipulated.
Whether you want to acknowledge it or not, whether you think it's good or bad, you're constantly being manipulated.
"Dark Psychology and Manipulation for Beginners" is the complete book authored by Abid Hogg, one of the leading experts in the field of persuasion in America. He has dedicated his life to the study of this subject and has already helped thousands of people change their lives through his guides.
This book contains a variety of information that can revolutionize your life.
You'll find out what techniques you're exposed to ALL THE TIME, so you can start recognizing and defending yourself.
But let's go deeper into the topics covered:
Chapter 2 Characteristics of Manipulative People16
Chapter 3 Toxic Relationships and What to Do About Them27
Chapter 6 Brainwashing46
Chapter 9 Body Language: How to Interpret Non-Verbal Communication in Different Parts of the Body87
...And that's just part of what you'll find inside.
At this point, you have two choices.
Now, YOU DECIDE:
Continue to be the prey of the manipulators and let your business fail inexorably.
Or ... Become a predator by learning to defend yourself and using manipulation in your favor.
If the second choice sounds better to you, buy this book today.