Wellness, Social Policy and Public Health: Bridging Human Flourishing with Equity (Emerald Points) (Hardcover)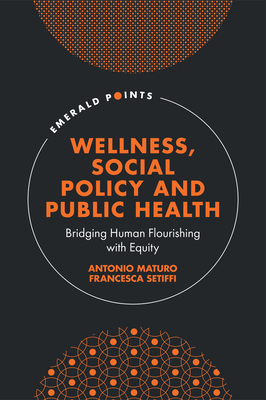 $60.00

usually available in 3-5 business days
(This is a special order book which cannot be returned.)
Description
---
A self-help buzzword, a sociological concept, and a target for political institutions; 'wellness' can be interpreted in different ways. It is viewed as a heterogeneous set of activities aimed at increasing both physical and mental individual well-being, including maintaining a healthy diet and lifestyle, being physically active and taking care of mental health. From a sociological perspective, 'wellness' can raise problematic issues; the pursuit of wellness activities is inherently affected by social and economic factors and social determinants, and the individual nature of the pursuit of wellness means it is not strongly related to community empowerment, the production of social capital and social cohesion.
Wellness, Social Policy and Public Health: Bridging Human Flourishing with Equity considers wellness as an ecosystem instead of an activity to be carried out by an individual. Case studies explore current welfare policy and its relationship with wellness activities, demonstrating that individual flourishing related to wellness is activated only in a context of solid welfare infrastructures.
About the Author
---
Antonio Maturo is a medical sociologist and Professor at Bologna University, Italy. His latest books are Digital Health and the Gamification of Life with Veronica Moretti (Emerald, 2018) and Good Pharma with Donald Light (Palgrave, 2015). At Bologna University, Antonio is the Chair of the PhD Programme in Sociology and is responsible for the Bologna Unit of three Horizon2020 Projects. He has taught Medical Sociology for five years at Brown University, USA. Francesca Setiffi is Associate Professor of Sociology of Culture at the University of Padova, Italy. Her research covers consumer attitudes and beliefs, sharing economy, material culture and design, and cultures of organisations. Francesca has been visiting scholar at Boston University and Brown University, USA, and is member of Centre of Research of Consumer Strategies of Italian Families. She recently published Sociology of Consumption with P. Degli Esposti and C. Riva (Utet, 2019, in Italian).