Falling Down: The Conservative Party and the Decline of Tory Britain (Hardcover)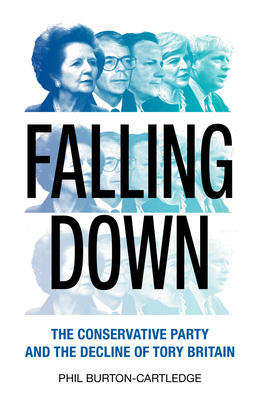 $29.95

Special Order - may be out of print
Description
---
The Fall of the Tory Party

Despite winning the December 2019 General Election, the Conservative parliamentary party is a moribund organisation. It no longer speaks for, or to, the British people. Its leadership has sacrificed the long-standing commitment to the Union to 'Get Brexit Done'. And beyond this, it is an intellectual vacuum, propped up by half-baked doctrine and magical thinking. Falling Down offers an explanation for how the Tory party came to position itself on the edge of the precipice and offers a series of answers to a question seldom addressed: as the party is poised to press the self-destruct button, what kind of role and future can it have?

This tipping point has been a long time coming and Burton-Cartledge offers critical analysis to this narrative. Since the era of Thatcherism, the Tories have struggled to find a popular vision for the United Kingdom. At the same time, their members have become increasingly old. Their values have not been adopted by the younger voters. The coalition between the countryside and the City interests is under pressure, and the latter is split by Brexit. The Tories are locked into a declinist spiral, and with their voters not replacing themselves the party is more dependent on a split opposition - putting into question their continued viability as the favoured vehicle of British capital.
About the Author
---
Phil Burton-Cartledge is a lecturer in Sociology at the University of Derby. Via his blog, All That Is Solid, he regularly writes about politics and current affairs. He has also written for The Independent, New Statesman, and OpenDemocracy.
Praise For…
---
"As the UK enters its 11th successive year of Conservative majority rule, Falling Down is an important and timely intervention. Burton-Cartledge breaks through the self-referential debates on the left to provide a rigorous and acute analysis of British Conservatism, filling a significant lacuna in left strategic thought. Falling Down should be considered critical reading socialist academics, activists and poli-ticians alike.'"
—Grace Blakeley, author of The Corona Crash

"A masterful account of the long view. Fewer people are benefitting from Conservative policies each decade. The party then has to rely more and more on the fears of older voters for support. Phil Burton Cartledge persuasively explains how the Tories are running out of rope even while appearing to poll so well."
—Danny Dorling, author of Inequality and the 1%

"A lucid, perceptive and indispensable study of one of the most successful political parties in history, and the one that has utterly dominated British politics since the dawn of mass suffrage: the Conservative Party. Understanding the recent history of the Tories is essential to any at-tempt to get to grips with the contemporary UK, and this book makes a crucial contribution to that understanding."
—Jeremy Gilbert, author of Twenty-first Century Socialism

"Falling Down's autopsy of the Conservative Party is … a timely one … an important contribution to the kind of militant political science the left desperately needs."
—Alfie Steer, Tribune

"Enjoyable and revealing. Burton-Cartledge does a fine job of putting forward a bold thesis"
—On Magazine

"Astute."
—Oscar Rickett, i news

"Ewa Majewska looks at the ways that feminist spaces resist the tide of fascism."
—Lit Hub (75 Nonfiction Books You Should Read This Summer)

"Falling Down provides a useful overview of Conservative politics throughout the decades since Thatcher, and of the leading political actors that have shaped Britain."
—Sabrina Huck, Red Pepper

"Excellent."
—Chris Bambery, Counterfire

"A welcome respite from the short-termism of other commentators."
—Freddie Hayward, New Statesman

"A must-read … this book offers exquisite, well-sourced chronicles of the events under-pinning [Burton-Cartledge's] thesis."
—Peter Kenyon, Chartist

"Burton-Cartledge has a good point to make: one of the reasons for the Tories' continuing success is that their opponents never take them seriously enough."
—Economist