World War II Infantry Assault Tactics (Elite) (Paperback)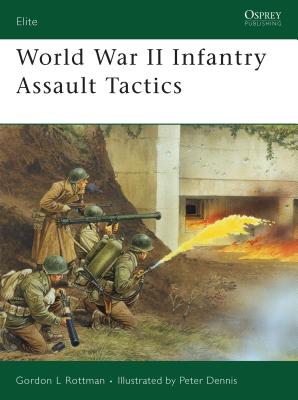 $20.00
Special Order - may be out of print
Other Books in Series
This is book number 160 in the Elite series.
Description
---
Osprey's examination of assault tactics used by the infantry during World War II (1939-1945). Just about every war movie - famously, Saving Private Ryan and Band of Brothers - includes dramatic scenes of soldiers trying to attack an enemy pillbox or trench. Continuing the series explaining World War II tactics, Gordon L Rottman (who became expert in these tactics during the Vietnam War) explains and illustrates the kit and techniques used in assaulting fortifications. He covers the differences in US, British, German, Soviet and Japanese approaches and experiences, concentrating on small units of foot soldiers with hand-carried equipment. The weapons used included the purpose-made and the improvized: assault charges of various shapes, sizes and characteristics, flamethrowers, grenades and bazookas. Their tactical deployment is analyzed and explained in detail, with the support of color artwork, maps, diagrams and photographs.
About the Author
---
Gordon L. Rottman entered the US Army in 1967, volunteered for Special Forces and completed training as a weapons specialist. He served in the 5th Special Forces Group in Vietnam in 1969–70 and subsequently in airborne infantry, long-range patrol and intelligence assignments until retiring after 26 years. He was a Special Operations Forces scenario writer at the Joint Readiness Training Center for 12 years and is now a freelance writer, living in Texas.

Peter Dennis was inspired by contemporary magazines such as Look and Learn, leading him to study Illustration at Liverpool Art College. Peter has since contributed to hundreds of books, predominantly on historical subjects, including many Osprey titles. A keen wargamer and modelmaker, he is based in Nottinghamshire, UK.
Praise For…
---
"This is an interesting book, and it covers a lot more than just the tactics used in assaults. The unit level examined is the platoon, justifiably so since most attacks were basically combinations of platoon assaults at levels from company upward... Period photographs are accompanied by sketch maps of typical assaults and by good colour plates of the main demolition materials and of typical attacks. Highly recommended." —John Prigent, Internet Modeler (April 2008)

"Profusely illustrated by Peter Dennis, in Osprey's common style of excellence, this new book is a very interesting read, and, for those of us who have never been involved in a military attack on a fortified position, it gives a reasonable overview of what goes into the attack -- far more that what Saving Private Ryan or the old John Wayne WWII films might imply. Pick up a copy today if you are interested in the details behind the scenes." —Scott Mingus, Charge! (March 2008)

"Overall, it is a superb look at how the armed forces of the nations involved in WWII were similar and different. A book that I know you will find interesting and engrossing." —Scott Van Aken, modelingmadness.com (May 2008)