World War II US Armored Infantry Tactics (Elite) (Paperback)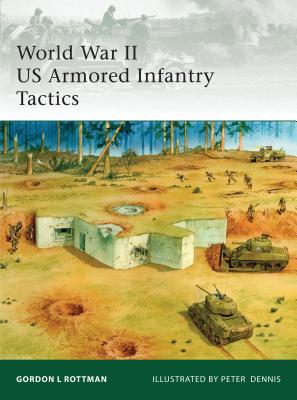 $20.00
usually available in 5-10 days
Other Books in Series
This is book number 176 in the Elite series.
Description
---
Osprey's study of America's armored infantry tactics in World War II (1939-1945). Little has been published on US armored infantry units and tactics over the years despite their key role in World War II. There were a total of 57 armored infantry battalions and two regiments that served throughout the war and in all theaters. Equipped with halftracks, they fought as part of combined arms teams and combat commands alongside tanks, tank destroyers and artillery battalions. Significantly, they were not simply standard infantry battalions provided with halftracks. Their company and platoon organization was very different from the standard infantry unit and these highly mobile, heavily armed battalions fought in an entirely different manner. Using period training manuals and combat reports this book provides an exclusive look at the unique tactics developed by US armored infantry units including movement formations and battle drills.
About the Author
---
Gordon L. Rottman entered the US Army in 1967, volunteered for Special Forces and completed training as a weapons specialist. He served in the 5th Special Forces Group in Vietnam in 1969–70 and subsequently in airborne infantry, long-range patrol and intelligence assignments until retiring after 26 years. He was a Special Operations Forces scenario writer at the Joint Readiness Training Center for 12 years and is now a freelance writer, living in Texas.

Peter Dennis was inspired by contemporary magazines such as Look and Learn, leading him to study Illustration at Liverpool Art College. Peter has since contributed to hundreds of books, predominantly on historical subjects, including many Osprey titles. A keen wargamer and modelmaker, he is based in Nottinghamshire, UK.
Praise For…
---
"Author Gordon L. Rottman covers the organization of these units, the weapons and equipment they used as well as what tactics, theory and capabilities were developed as these units were used in combat. Then there was the understanding and exploitation of the strengths and weaknesses of these units and how they performed in action. Bolstered by a well done selection of period photographs and the superb artwork of Peter Dennis, it makes into an excellent book on the subject. One in which I learned a lot and can easily recommend to you." —Scott Van Aken, Modeling Madness, modelingmadness.com (November 2009)

"A solid pick for such [military history] collections... Gordon Rottman's World War II US Armored Infantry Tactics, telling of lessons applied between divisions when the nation entered the war and underestimated the ratio of mechanized infantry to tanks." —The Bookwatch (January 2010)