Atlas of Imagined Places: from Lilliput to Gotham City (Hardcover)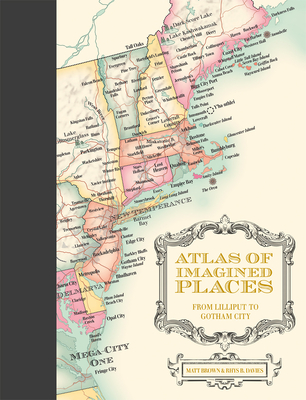 $34.99

Backordered - OK to 'add to cart' and we'll let you know when your copy is here
Description
---
From Stephen King's Salem's Lot to the superhero land of Wakanda, from Lilliput of Gulliver's Travels to Springfield in The Simpsons, this is a wondrous atlas of imagined places around the world. Locations from film, tv, literature, myths, comics and video games are plotted in a series of beautiful vintage-looking maps.
The maps feature fictional buildings, towns, cities and countries plus mountains and rivers, oceans and seas. Ever wondered where the Bates Motel was based? Or Bedford Falls in It's a Wonderful Life? The authors have taken years to research the likely geography of thousands of popular culture locations that have become almost real to us. Sometimes these are easy to work out, but other times a bit of detective work is needed and the authors have been those detectives. By looking at the maps, you'll find that the revolution at Animal Farm happened next to Winnie the Pooh's home.
Each location has an an extended index entry plus coordinates so you can find it on the maps. Illuminating essays accompanying the maps give a great insight into the stories behind the imaginary places, from Harry Potter's wizardry to Stone Age Bedrock in the Flintstones.
A stunning map collection of invented geography and topography drawn from the world's imagination. Fascinating and beautiful, this is an essential book for any popular culture fan and map enthusiast.
About the Author
---
Matt Brown is author of 11 books for Batsford, including eight titles in the popular Everything You Know... series of mythbusting books. He has served as editor and editor-at-large of Londonist.com for many years, writing on topics as diverse as street art, politics, map-making and science. With a deep love of trivia, he's written and hosted hundreds of quizzes, including events for the Museum of London, London Eye, Royal Institution, Royal Society and Manchester Science Museum, among many others. All of his books use humour and playfulness as tools to explore the world. He is tweeting at @mattfromlondon.
Rhys B. Davies hails from South Wales. Growing up as a child of the nineties, he was reared on a mix of Saturday-morning cartoons, blockbuster films and all manner of literature, from Enid Blyton and Roald Dahl to Crichton, Clancy and Cussler. These influences coalesced into a deep love of fiction and the worlds that imagination can build. His first novel Timewreck Titanic was published in 2012.
Praise For…
---
'There is much to relish in these maps'
—
Times Literary Supplement