Nelson's Way: Leadership Lessons from the Great Commander (Paperback)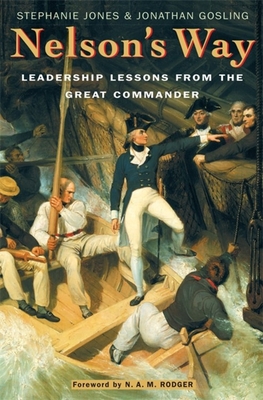 $24.95

Special Order - may be out of print
Description
---
"The lessons from Nelson's leadership are even more appropriate today than they were two centuries ago. The freely given support of all your people is the key to competitive success." - Sir John Harvey-JonesThis is a one-of-a-kind look at Nelson and his leadership skills. Vice Admiral Horatio Lord Nelson has been widely admired as a celebrated and effective leader. His dynamic approach to leadership and management has now been translated into a timeless, practical and contemporary insight for today's managers.

Nelson's Way will bring "The Nelson Touch" of luck, inspiration and leadership to everyone. Explaining how Nelson embodies the characteristics of the most successful of leaders, from bravery to determination, inspiration to luck and simplicity to unconventionality. Jones and Gosling explore and examine the self-made legend set against the backdrop of the high-seas, personal sacrifice, debilitating injuries and glorious conquests.

With chapters including: Making Heroes, The Band of Brothers and Creating (and Sustaining) a Legend, Nelson's Way incorporates the latest research and joins a series of ground-breaking studies applying historical biography to business to create the most comprehensive insight into Nelson, his heroic exploits and legendary leadership skills.
About the Author
---
Jonathan Gosling is the Director of the Centre for Leadership Studies of the University of Exeter. Previously Director of the Strategic Leaders' Unit at Lancaster University and of the International Masters in Practising Management, Jonathan's research focuses on leadership and ethics in current strategic change, and on contemporary innovations in leadership development. Stephanie Jones studied maritime history and has lectured at the London School of Economics. After an international career in management consulting she currently lectures in leadership to students and executives and is a Visiting Fellow at the Centre for Leadership Studies at Exeter. She is currently based in Dubai and lectures worldwide. She has published over 20 books on business and management techniques.