The Canada Company and the Huron Tract, 1826-1853: Personalities, Profits and Politics (Paperback)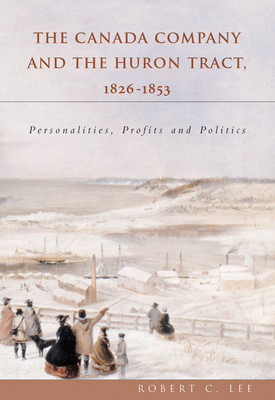 $19.95

Special Order - may be out of print
Description
---
The Canada Company was responsible for the opening and settling of over two million acres of land in Upper Canada. Author Robert C. Lee focuses his attention on the extensive parcel of land on the shores of Lake Huron that became known as the Huron Tract. His comprehensive research explores the underlying forces leading to the formation of the Company, the intriguing mix of people charged with responsibilities for the Company and the overall impact of its operations, leading to its present-day legacy. The politics of the day, coupled with diverse and colourful personalities - such as John Galt, Tiger Dunlop, William Allan, Thomas Mercer Jones, Frederick Widder, Sir Peregrine Maitland, Bishop Macdonnell and Bishop Strachan - introduce an interesting blend of vision, intrigue, mischief and day-to-day survival strategies that make for compelling reading. Add to this the shareholders perspective of the Company versus the settlers perspective and you have a fascinating glimpse of pioneer conditions.
Included are descriptions of early towns such as Guelph and Goderich, as well as background on the Huron Tract township names.
Robert Lee's outstanding book brings to life the unusual assemblage of characters who were instrumental in the development of Upper Canada's largest private settlement scheme - the Huron Tract. Their relationships with each other, and especially with the Canada Company for which many of them worked, make a great story.

- Lutzen Riedstra, Stratford-Perth Archivist
Robert Lee has vividly recreated the personalities and the political intrigues that were part of the Canada Company's operation - the largest one of its type in Ontario's history. The most comprehensive work to date on this fascinating era, this book is eminently readable and a must-have for history lovers.

- Ron Brown, author of Ghost Towns of Ontario
About the Author
---
Robert C. (Bob) Lee, diplomat and historian of Scottish, English and Welsh heritage, was born and educated in Toronto but spent all of his summers as a boy in Goderich where his Huron County roots run deep. His great-great-grandfather Charles George Middleton arrived in Goderich Township from England (via Toronto in 1834 with his young wife, Elizabeth, and their firstborn son) where he initially purchased 80 acres from the Canada Company and built a log cabin there. His great-grandfather William Lee arrived in Goderich in the 1850s and served as mayor in 1869 (he was a marine agent and ship chandler at the Goderich harbour). The author's grandfather Charles Crabb Lee was mayor of Goderich (1931-34) and proprietor of a ship chandlery/coal/plumbing/hardware business at the harbour. He also owned and operated a summer resort in Goderich, the Sunset Hotel, until his death in 1944. Bob studied at Bishop's University in Lennoxville, Quebec (Hons. B.A. History/Political Science), under eminent Canadian historian Dr. Donald C. Masters. He subsequently went on to the University of Guelph at Guelph, Ontario, for his Masters degree. Under the tutelage of Dr. Masters, who had since moved to Guelph, he wrote his thesis The Canada Company: A Study in Direction, 1826-1853. In 1967, Bob joined the Canadian Foreign Service as a Trade Commissioner and has had postings in the United States, Yugoslavia, Japan, Korea and Indonesia. His latest assignment in the Department of Foreign Affairs and International Trade, Ottawa, was as director of the department's Science and Technology (S&T) Program. He lives in Ottawa with his wife, Young-Hae, who is president of the Canada-Korea Society. They have three children -- Geoffrey, Jennifer and Stephen.
Praise For…
---
"This book provides a definitive account of the formative years of the Canadian Company."