Incognito: The Astounding Life of Alexandra David-Neel (Paperback)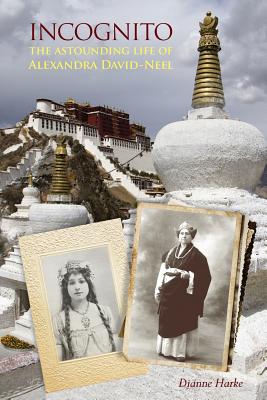 $21.95

usually available in 3-5 business days
(This is a special order book which cannot be returned.)
Description
---
INCOGNITO is a truly extraordinary story based on the remarkable life of Alexandra David-Neel, 1868 -1969.
Journey "beyond the garden gate" with Alexandra David-Neel, spiritual seeker, opera singer, feminist journalist, intrepid explorer, Buddhist scholar and prolific author of over thirty books. Alexandra's wanderlust takes her all over Asia, and several times into her beloved Tibet. She befriends the Crown Prince of Sikkim, interviews the 13th Dalai Lama and the 9th Panchen Lama, and lives as a hermit in a cave high in the Himalayas, studying Buddhism and the Tibetan language with a revered lama.
In 1923, at the age of 55, Alexandra embarks on one of the most courageous journeys ever made. She treks thousands of miles to the forbidden city of Lhasa, Tibet. By her side is Yongden, a young Sikkimese lama. They travel incognito, disguised as Tibetan mother and son; pilgrims on their way to the holy city. Alexandra's hair is dyed black; her face is blackened with soot. Hidden under her clothing is a revolver. They outwit bandits, officials, and ferocious weather, to reach their goal.
In 1937, nearing 70 year's of age, Alexandra travels once more into Tibet. She returns to France after the end of the Second World War as a living legend.
At 100 year's of age, dreaming of another journey into the unknown, Alexandra renews her passport
"Ever since I was five years old...I craved to go beyond the garden gate, to follow the road that passed it by, and to set out for the Unknown." My Journey to Lhasa, Alexandra David-Neel