Harrier 809 (Paperback)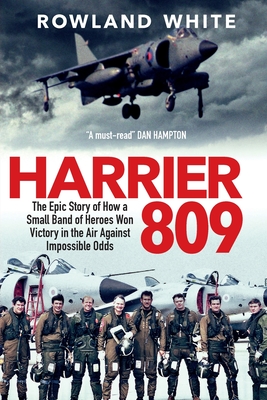 $19.95

usually available in 3-7 days
(This is a special order book which cannot be returned.)
Description
---
'A COMPELLING, FAST-PACED NARRATIVE THAT THRUSTS US INTO THE COCKPIT. A MUST-READ ' Dan HamptonApril 1982. Argentina invades the Falkland Islands.
In response, Britain dispatches a naval Task Force. Eight thousand miles from home, its fate hinges on just twenty Sea Harrier fighters against the two hundred-strong might of the Argentine Air Force.
The odds against them are overwhelming.
British Defense Chiefs' own estimates suggest that half the Harriers will be lost within a week. Against this background, 809 Naval Air Squadron is reformed, trained and sent south to fight.
Not since WWII had so much been expected of such a small band of pilots...
Combining groundbreaking research with the pace of a thriller, Rowland White reveals the full story of the fleet's knife-edge fight for survival for the first time, and shows how the little jump jet went from airshow novelty to writing its name in aviation legend. And of how a small band of heroes won victory against impossible odds.
'A military adventure, written with expertise...a tale of initiative, skill and courage, of pushing beyond the rules.' THE SPECTATOR
'Harrier 809 reads like a fast-paced military adventure novel only better because every word is true. White has brought us an up-close, inside-the-cockpit saga of a band of heroes. Riveting.' ROBERT GANDT, author of Skygods
'Utterly thrilling and totally absorbing. White conveys brilliantly the spirit of a great aircraft - and the men who flew it.' PATRICK BISHOP
'Utterly brilliant. The very best kind of narrative history, Harrier 809 is a fantastically exciting book. It reads like a thriller and has some of the best aerial action sequences I've ever read. A page-turner from start to finish.' JAMES HOLLAND, author of Normandy '44
'Set against the broader context of the Falklands War, Harrier 809 brings the squadron's story to life in fine and highly readable detail.' GARTH ENNIS, author of The Boys, Preacher and Hellblazer