René Meulensteen & Man Utd Methods of Success (2007-2013) - René's Coaching Philosophy and Training Sessions (94 Practices), Sir Alex Ferguson's Manag (Volume #1) (Paperback)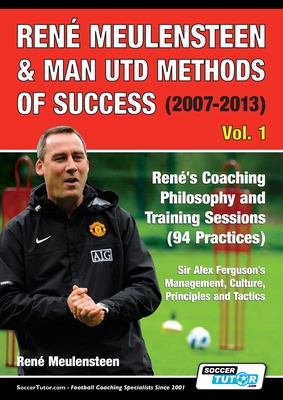 $49.95

usually available in 3-7 days
Description
---
Ren Meulensteen (UEFA Pro Licence) spent 12 years at Manchester United and was Sir Alex Ferguson's First Team Coach during the most successful years in the club's history (2007- 2013).
Ren 's expertise provides coaches of all levels a great insight into the key aspects and methods behind Manchester United's success when they won 1 x UEFA Champions League (]2 Runner-up), 4 x Premier Leagues and 1 x League Cup all within 6 seasons.
During this period, Ren was responsible for creating and coaching all of the first team training sessions. He kept a record of every single training session in organised folders, and these Technical and Tactical Practices and Sessions form the basis of this book (94 Practices included).
This book provides a detailed blueprint of the successful structure and organisation of Manchester United, as well as the Management, Leadership, Principles, Tactics and Philosophy of Play of the greatest British manager in history, Sir Alex Ferguson. Find out how Manchester United produced such a High Speed of Play, created Waves of Attacks, and how they scored so many late goals using Scenario Training ("Fergie Time").
All of this content will provide you with a great understanding of the methods behind Manchester United's success, from the training pitch to match days.
This is your chance to practice and apply Ren 's exact Manchester United training sessions, enabling your team to reproduce Alex Ferguson's team's fantastic attacking style.
MANCHESTER UNITED PRACTICE / SESSION TOPIC EXAMPLES:
Build-up Play
Switching Play
Forward Passes and Runs to Break the Lines
Attacking Overloads
Crosses and Box Runs
Attacking Combination Play
Dominating 1v1 Situations and Finishing
Defensive Shape, Pressing and Recovery
Transition from Defence to Attack (Counter Attacks)
"Fergie Time" Scenario Training
As well as the first team training sessions, this book also shows you Ren 's Development Model, Coaching Philosophy, and the importance of Specific Technical Training (1v1s and Finishing). During his time at Manchester United, Ren was attributed to improving the individual technique and performances of Cristiano Ronaldo, Ryan Giggs, Ruud van Nistelrooy, Robin van Persie, Nani, and many others. The practices he used for individual or small group training are included in this book.