Art Against Despair: Pictures to Restore Hope (Hardcover)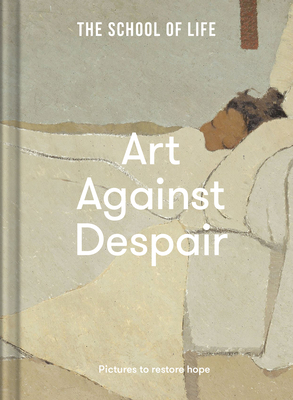 $32.99

Special Order - may be out of print
Description
---
A collection of inspiring and therapeutic works of art.
Art therapy for the soul. One of the most unexpectedly useful things we can do when we're feeling glum or out of sorts is to look at pictures. The best works of art can lift our spirits, remind us of what we love and return perspective to our situation. A few moments in front of the right picture can rescue us. Art is one of the most unexpected and beautiful defenses we have against despair.

Each of the uplifting images in this collection comes paired with a brief inspirational essay. The images range widely across time and space: from ancient to modern art, east to west, and north to south. They include photography, paintings, abstract and figurative art. Each image has been carefully chosen with a particular problem in mind: a broken heart, career challenges, relationship troubles, and more.

This is a portable museum dedicated to beauty and consolation, a unique book about art which is also about psychology and healing: a true piece of art therapy.

A CURATED COLLECTION OF ARTWORKS from artists around the world, each accompanied by an essay.
ARTISTS INCLUDE Edgar Degas, Cy Twombly, Gustave Caillebotte, Louise Bourgeois, Hiroshi Yoshida, Johannes Vermeer, Georgia O'Keeffe and more.
ART AS THERAPY FOR THE SOUL this book highlights the therapeutic benefit of art. Artworks featured from galleries including The Metropolitan Museum of Art, Los Angeles County Museum of Art, Mus e d'Orsay, Paris, San Francisco Museum of Modern Art, The National Gallery, London and Tate Museum, London.
About the Author
---
The School of Life is a global organization helping people lead more fulfilled lives. Through our range of books, gifts and stationery we aim to prompt more thoughtful natures and help everyone to find fulfillment.The School of Life is a resource for exploring self-knowledge, relationships, work, socializing, finding calm, and enjoying culture through content, community, and conversation. You can find us online, in stores and in welcoming spaces around the world offering classes, events, and one-to-one therapy sessions.The School of Life is a rapidly growing global brand, with over 7 million YouTube subscribers, 389,000 Facebook followers, 174,000 Instagram followers and 166,000 Twitter followers.The School of Life Press brings together the thinking and ideas of the School of Life creative team under the direction of series editor, Alain de Botton. Their books share a coherent, curated message that speaks with one voice: calm, reassuring, and sane.