Anxiety in Relationship: Don't be overwhelmed by Jealousy and Insecurity. Avoid Couple Conflicts and learn how to manage Separation and Stress (Paperback)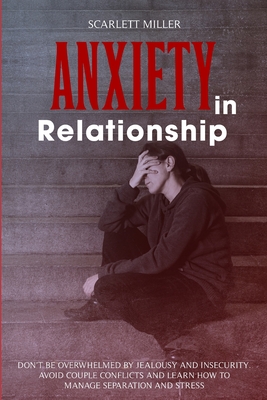 $24.95
usually available in 5-10 days
Description
---
Would you like to know what anxiety in a relationship is? Do you want to learn how to resolve conflicts in a relationship? Is the fear of abandonment alarming for a relationship?
If yes, then you have to keep reading.
Tension can be challenging to oversee. However, there are solutions, and when you are seeing someone, those solutions can be worked through altogether. Although some anxiety in a relationship is ordinary, having it rule your relationship can turn it harmful, regularly harming the individual you love most. For some people who suffer from anxiety, bouncing from relationship to relationship helps ease their stress only for a short period, when insecurity creeps in again. They are regularly left inquiring about why their connections consistently come up short, never entirely understanding that their anxiety is pushing individuals away.
Anxiety in Relationship Covers:
What is relationship anxiety?
What are the symptoms of insecurity, and how to recognize them?
Negative thinking
rules for overcoming them
Are you on the right track?
How to deal with relationship insecurity?
Effects of a panic attack on relationships
Fear of abandonment
And Much More
There is a mystery to overseeing and conquering the obstructions that reason you to experience the ill effects of your uneasiness. The secret is recognizing that the hindrances that scare you and make your melancholic musings are the way to carrying on with a reliable and secure life. The minute you start using your anxiety as a mindful reminder that your insecurities and mistrust are rearing their ugly head, you can better manage the consequences positively.
Want to know more?
Get Your Copy Now.