Queen of the Moon Oracle: Guidance through Lunar and Seasonal Energies (44 Full-Color Cards and 120-Page Guidebook) (Rockpool Oracle Card Series) (Paperback)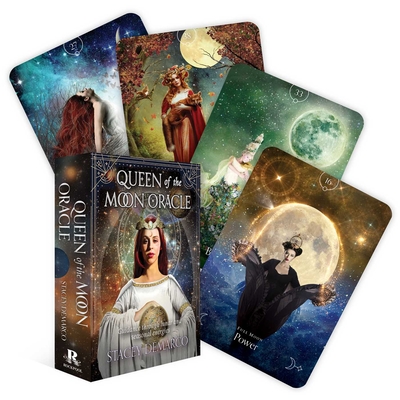 $24.95

usually available in 3-5 business days
Description
---
For countless millennia, humans have connected to the mystical power of the moon and the energy of the seasons. For our ancient ancestors, the earliest veneration and sacred honoring was of the moon, the seasons, and the cycles of light and dark, hot and cold and fertility and rest, and this beautifully illustrated Queen of the Moon Oracle allows you, the modern seeker, to plug in to these most primal energies.
Consult this oracle based in ancient wisdom and receive the answers to your modern problems.
Features a full moon cycle of lunar images, each beautifully illustrated and able to be used as stunning circular altar displays.
Experience the seasonal moons and the power they can provide.
Learn which times in the moon's cycle are best for ritual, spell craft and making talismans for prosperity, love, health and more.
This is the perfect companion to the author's best-selling annual Lunar and Seasonal Diary and is perfect for anyone who loves to sit or dance under a big silvery moon.
About the Author
---
Stacey is one of Australia's most high profile and trusted meta-physical and spiritual practitioners. Awarded Psychic of the Year 2009 by the Australian Psychics Association, she appears regularly on television including Sunrise, The Morning Show, Sundays and Mornings with Kerri-Anne, and as a judge on Channel Seven's national television program, THE ONE.
Kinga Britschgi is a professional Hungarian artist having been living in the U.S. since August, 1995 and works in both digital and traditional media creating mostly composite works for narratives, illustration, fine art prints, and such. Visit her at http://kingabrit.wixsite.com/kinga.
Praise For…
---
"Universally, people are reclaiming the power of their feminist energy. DeMarco, author of Witch in the Boardroom, has earned her credentials to speak to this issue through decades of writing and teaching. The choice of Kinga Britshgi's digitalized surrealism and fantasy artwork, framed with dark whimsy, makes this a cutting-edge deck with great appeal for the younger generations. 44-card deck and 108-page full-color guidebook." –Anna Jedrziewski, Retailing Insights
— Anna Jedrziewski