My Tio's Pulse (Paperback)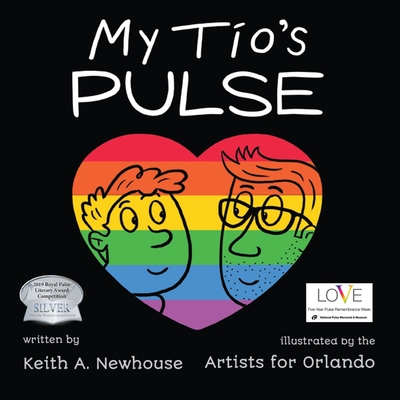 $11.95

usually available in 3-7 days
(This is a special order book which cannot be returned.)
Description
---
All profits from the sale of this book will be donated to the Orlando United Assistance Center.
Often, answers to simple questions by children deal with difficult and sensitive issues.
As parents, we need to have the tools that help us with these difficult topics and explain them in a way that children can understand without causing fear or anxiety.
Why are you crying, Tio Luis?
When Angel learned how to take his pulse in gym class, he never imagined the effect that his newfound knowledge would have on his Uncle Luis... or the conversations that it would start.
Using expert language from Psychotherapist Kenny Tello, who worked directly with children affected by Pulse and featuring illustrations by over 20 passionate artists, My Tio's Pulse explains what happened at the Pulse Nightclub on June 12, 2016, in a clear and simple way that will give children the tools to talk about difficult topics and empower them to feel safe.
Visit NewhouseCreativeGroup.com for more books and other products from NCG Cares, AimHi Press, and the rest of the Newhouse Creative Group family
Working together to help our children build a better world through love and unity.
Order your copy today. Thank you.
Praises and reviews for My Tio's Pulse
Watermark's Top of 2018
Top Shelf Finalist 2019
Featured in Orange County History Center's Love Speaks Exhibit
Royal Palm Literary Award Finalist 2019
Recognized by the Family Equality Council
A wonderful way to share the important message of compassion and unity that our community displayed after the tragedy with our children. - Buddy Dyer, Orlando Mayor
My T o's Pulse will facilitate conversation about tragedy with children in years to come. - Mariana Plata, Clinical Psychologist
A Great Contribution for Helping Children (and adults) Deal with Tragedy... demonstrates a deep understanding and sensitivity... The illustrations are amazing and help bring life to the important messages. - Paula Feuerstein, Award-Winning Author of Crackle. Chirp. Chirp: How to Help Our Animal Friends
A must for anyone teaching/watching kids or has kids. It deals with a tough subject but in a way that children understand and should be taught while engaging them at the same time. - Jamie Murphy Hahn, Parent