A Green Equinox (Paperback)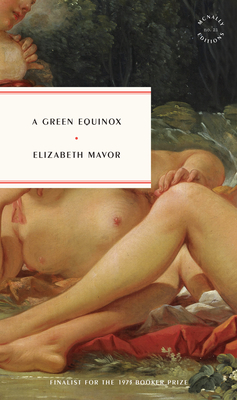 Description
---
Shortlisted for the 1973 Booker Prize, A Green Equinox is a beguilingly Rococo "study of love, considered in turn as companionship, sickness and mystic devotion . . . a book whose unusual infatuations are well worth lingering over, and puzzling out" (Russell Davies, The Observer).

Hero Kinoull is an antiquarian bookseller whose sedate life in the picturesque English town of Beaudesert is turned upside down between the spring and autumn equinoxes of a single year. First her quiet but forbidden liaison with Hugh Shafto, the curator of the country's finest collection of Rococo art, comes to an abrupt halt when she develops an adoration for his straight-talking, do-gooding wife Belle. But this relationship leads to other, even more unexpected feelings for Belle's widowed mother-in-law, the majestic Kate Shafto, who spends her days tending her garden and sailing her handmade boats in the waters of the miniature archipelago she's constructed in a disused gravel-pit.

Published two years after Elizabeth Mavor's most famous work, The Ladies of Llangollen—a biography of two eighteenth-century Irish gentlewomen who scandalized their families by eloping to Wales, where they lived together on their own terms—A Green Equinox is itself an intrepid exploration of gender, female sexuality, and passion: romantic, carnal, and cerebral.
About the Author
---
Born in Glasgow and educated at Oxford, where she was reputedly the first woman to edit the university magazine, Elizabeth Mavor (1927–2013) was the author of five novels and numerous works of nonfiction. Drawn to the lives of women who flouted convention, her most celebrated works include two historical biographies: The Virgin Mistress: A Study in Survival (1964), about Elizabeth Pierrepont, Duchess of Kingston, an English courtesan famous for her adventurous lifestyle; and The Ladies of Langollen (1971), the story of cross-dressing aristocratic companions Lady Eleanor Butler and Sarah Ponsonby. Mavor was married to the cartoonist and illustrator Haro Hodson, with whom she had two sons.
Praise For…
---
"Funny, surprising and unpredictable. This extraordinary novel . . . operates as a cry for passion and against lassitude . . . A Green Equinox is a book whose transgressive nature slips by the reader easily through the comedy, colour and final tragedy of its telling. There is a particular sensibility here—unpredictability, comedy in darkness, turning things upside down in fewer than 200 pages—that recalls Barbara Comyns or Muriel Spark. But most of all this is that rare bird, a novel entirely sui generis, with no clear antecedents and no imitators. It is old-fashioned in the best way: intrepid, eccentric, and not giving a damn."
— John Self

"In a reissue of the late Mavor's 1973 Booker Prize­–shortlisted novel, heroine Hero Kinoull is already in the throes of an affair—the first of three she will have over the course of a year . . . [In] lush and ornate prose . . . she effectively captures the timelessness of love, grief, sexuality, illness, and desire. A transgressive novel about love, art, and gender is given new life."
— Kirkus Reviews

"This vibrant and resonant story of love and sickness from Mavor (1927–2013) was shortlisted for the Booker when it was first published in 1973 . . . The plague sections of this unconventional story feel au courant, as does the timeless exploration of the many different ways to approach love. Mavor's passionate story endures."
— Publishers Weekly

"Could be discribed as a mix between Beatrix Potter, J. G. Ballard, and Sophocles . . . A strange, intriguing novel."
— Lucy Sweeney Byrne

"A Green Equinox's subject is love and its multifarious manifestations: carnal, romantic, or cerebral . . . [Mavor] is an unapologetic maximalist, who indulges in hyperbole, metaphor and poetry. But her flights of linguistic fancy are always tempered by a return to reality. One minute she's invoking Roman mythology, the next she's comparing somebody to a bathroom fixture—'Belle's nature was smooth and antiseptic, a flat white statement, as alien and inarguable with as a toilet pedestal'—and there's a beauty in each."
— Lucy Scholes

"Elizabeth Mavor relishes spirited, unorthodox women, free with their tongues and ready to snap their fingers at convention."
— Jane Adam Smith

"Funny and brave and moving and absolutely bonkers. I love this novel."
— Charlotte Mendelson

"Buoyant and witty . . . full of English idiosyncrasy and of English nonsense and intelligence."
— Karl Miller

"Elizabeth Mavor is a précieuse without being ridicule. Her dialogue is stylized and stylish, but the note once pitched is skillfully stuck to. Her plot is formal, unfolded with a measured, steady hand. Symbols recognizably smile or frown at you as you go along, like statuettes bordering a cossetted flower-garden. The whole book is very much of a 'performance,' at once graceful, mannered and, in no pejorative sense, remote."
— David Williams

"A thoughtful, intensely lyrical book."
— Roger Garfitt