Lead with Grace: Leaning into the Soft Skills of Leadership (Paperback)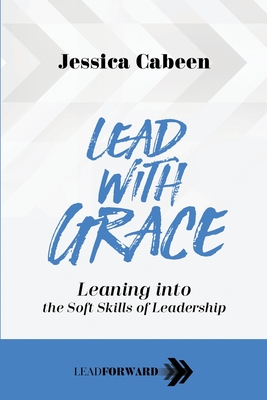 $23.95
usually available in 5-10 days
Description
---
Why do even great leadership books leave out the soft skills?
Probably because soft skills are not flashy. But soft skills are critical to graceful leadership, and you will find the stories and strategies to hone them, inside this book.
National Distinguished Principal and leadership advisor Jessica Cabeen understands the soft skills better than most. In Lead with Grace, book 2 in the Lead Forward Series, Jessica shows you how to seamlessly integrate authenticity, empathy, integrity, and the power of vulnerability into your daily work, turning you into someone who truly leads with grace and empowers students, staff, and everyone around you to excel.
Using frameworks and strategies, these soft skills can help you nurture relationships, enhance communication, manage boundaries, and provide the grace you need to effectively lean into your work, at school, home, or the office.
Leaning into the soft skills of leadership will help you:
Find ways to confront negative workplace behaviors.
Leverage opportunities that help people interact in healthier ways.
Create a workplace culture that supports risk-taking, while amplifying individual voices.
Enhance social media interactions to empower all stakeholders.
Implement habits that make grace an intentional practice in your personal and work life.
Great leaders, teachers, parents, and are typically good at the hard skills: organization, guidelines, and management. Very few, though, are great at the soft skills. And even fewer really understand how to lead with grace. Now, you can be a great and graceful leader, who understands and leads with soft skills.
Grab Lead with Grace today, and integrate authenticity, vulnerability, empathy, and integrity into your work immediately. Under your graceful leadership, staff, students, and co-workers will perform like never before.