The Art of Hybrid Timber Framing: Ideas, Techniques and Tips to Create Unique Personalized Beauty (Hardcover)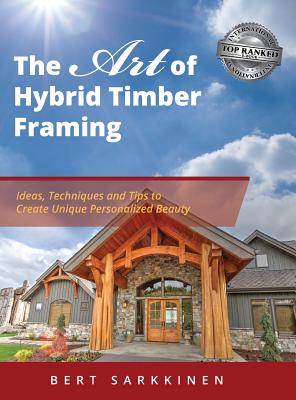 $107.00

usually available in 3-5 business days
(This is a special order book which cannot be returned.)
Description
---
Post & Beam Timber Framing Uncovered

Full timber framing is a thing of the past, generally speaking. The art of hybrid timber framing is a must read for owners, architects, and builders who want to influence the look and feel of their projects using exposed beam construction. Hybrid timber framing utilizes post & beam as well as modern & historical timber framing systems to create the ideal timber experience in a home or structure. Design is not held back by the constraints of traditional stick-built homes, or full timber frames. With this flexibility, the design must be carefully considered before the build starts.

With Hybrid Timber Framing, your options are many, but initial decisions have a massive impact on final result and satisfaction. This book educates owners, builders and architects on the decisions that must be covered during the design and planning stage. It is rich with ideas imagery and instruction to jumpstart your inspiration and planning.

However, this book is not for people who cannot or are unwilling to take a little time to learn and focus their efforts on the key things which will make or break the success of their timber building projects. It is a collection of high level techniques, ideas, and tips to avoid common pitfalls and ensure you get what you want with an enjoyable process.

Naturally, timbers and exposed beams have outsized impact on the aesthetics of building projects. Adding timbers without weighing the structural and aesthetic impacts can be worse than doing nothing and will magnify any awkward imbalances.

For rustic homes, beautiful structures, shops, pavilions, car canopies...the timber options are endless. Timber joinery and construction techniques create masterful look and structural integrity.

This guide will help you plan and build it right the first time Important topics to consider include:

- How to achieve optimized beauty by first defining ugly
- Where to draw the line with hybrid timber framing
- Seven chapters portraying diverse and unique timber styles
- How to avoid the over simplified "Hail Mary" approach
- How to accurately predict in the cost of hybrid timber framing

Arrow Timber Framing Owner, Bert Sarkkinen, is the son of a carpenter who developed a passion and knack for building at a young age. He has experienced multiple challenges in this craft through "trials by fire" to become the visionary and chief designer he is today at Arrow Timber Framing.

He is especially proud of his design, production and manufacturing team who he credits to the ongoing growth and company success.

This book provides the crucial knowledge needed for every phase of the project from planning to completion. This guide will help you protect your financial investment and optimize the look of post and beam construction.

"This is the most comprehensive planning guide to help you protect your timber investment and gain long-term project satisfaction to be enjoyed by future generations. We wish you much success as you create unique, artistic and beauty for your next timber project."