Arabian Nights of 1934 (Paperback)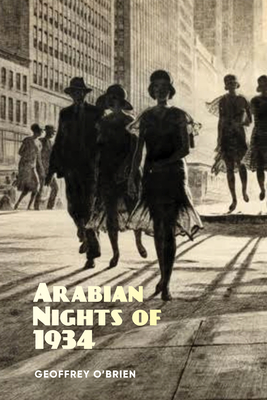 $24.95

usually available in 3-5 business days
Description
---
A genre-bending novel of 1001 nights of no-holds-barred, pre-code American movies distilled into a single fevered dreamworld.

Arabian Nights of 1934 is a journey through the fevered dreamworld embodied in American movies of the early 1930s: an era that closed abruptly with the enforcement of the Production Code in July 1934. It distills a thousand and one nights of Depression-era movie-going—plotlines, closeups, cityscapes, wisecracks, backchat, and frantic outbursts—into a haunting parallel life, the stories bleeding into one another as they did in the minds of the viewers whom they helped sustain.

Two of those viewers, it so happens, are O'Brien's own parents in their restless youth—one impatient to experience the world beyond the screen, one ready to take it on—and the glimpse we're afforded into the darkened theaters of their minds frames the book with an act of imagination at once tender and audacious.
About the Author
---
Geoffrey O'Brien is a widely published poet, critic, and cultural historian whose books include Hardboiled America (1981), Dream Time (1988), The Phantom Empire (1993), The Times Square Story (1998), The Browser's Ecstasy (2000), Sonata for Jukeboxes (2004), and Where Did Poetry Come From: Some Early Encounters (2020). He has published nine collections of poetry, most recently The Blue Hill (Marsh Hawk Press Poetry Prize, 2018) and Who Goes There (2020). He was for many years editor in chief of The Library of America, and contributes frequently to The New York Review of Books, Bookforum, Artforum, Film Comment, and other periodicals. He lives in Brooklyn.
Praise For…
---
"The latest in a remarkable sequence of sui generis texts by the poet and critic Geoffrey O'Brien that constitute a cultural history of our seduction by various media takes us on an exhilarating to this period…. Geoffrey O'Brien's text is full of such startling jump cuts, suggesting that it was pre-Code Hollywood's fevered reflections of social antagonisms that truly troubled the censors."
—Paul Quinn, The Times Literary Supplement

"Arabian Nights of 1934 recreates the Pre-Code Hollywood era from the early 1930s…. The energy of the 'slangy talk' propels the narrative, which proves to be a purely feverish and hypnotic experience for all those who let themselves be swept up in the richness of O'Brien's prose."
—William Blick, Film International

"Recommended reading for all fans of pre-Code movies. A remarkable book… a very handsome and beautifully printed volume published by Terra Nova Press."
—Geoffrey Gardner, Film Alert 101

"No one writes about movies like Geoffrey O'Brien. This is not a generic plaudit but a statement of fact."
—Imogen Sara Smith, Sight and Sound