Triptychs (Paperback)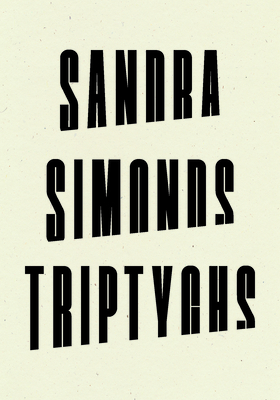 $18.00

Backordered - OK to 'add to cart' and we'll let you know when your copy is here
Description
---
Sandra Simonds's TRIPTYCHS is a brilliant intersection of poetic form and the passage of time.
Initially crafted in handwritten strips on rolls of receipt paper obtained at a dollar store, then assembled into three textual columns that sit side-by-side on the page, these triptychs are joined or disjoined in several ways--through diction, through the special relation of words (evoking intimacy, touch, or, in contrast, alienation), and through thematic similarities or dissimilarities. As a result, the poems energize the confines of this writing space as they invite readers to recall painterly constructions and news headlines, wherein each pillar is in conversation with another, sequentially and simultaneously. With the same lyric attention found in all of Simonds's poetry, the poems in TRIPTYCHS mark an innovative shift in poetics that is both polyvocal and singular.
Poetry.
About the Author
---
Sandra Simonds is the author of Atopia (Wesleyan University Press, 2019), Orlando, (Wave Books, 2018), Further Problems with Pleasure, winner of the 2015 Akron Poetry Prize (University of Akron, 2017), Steal It Back (Saturnalia Books, 2015), The Sonnets (Bloof Books, 2014), Mother Was a Tragic Girl (Cleveland State University Poetry Center, 2012), and Warsaw Bikini (Bloof Books, 2009). Her poems have been included in the Best American Poetry 2015 and 2014 and have appeared in the New York Times, Poetry, the American Poetry Review, the Chicago Review, Granta, Boston Review, Ploughshares, Fence, Court Green, and Lana Turner. She lives in Tallahassee, Florida and is an Associate professor of English and Humanities at Thomas University in Thomasville, Georgia.