I Escaped The California Camp Fire: A Kids' Survival Story (Paperback)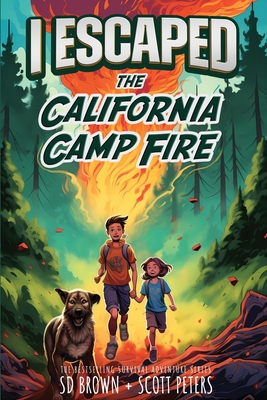 $9.99

usually available in 3-5 business days
(This is a special order book which cannot be returned.)
Description
---
Step into the shoes of a fearless young boy and witness the tragic 2018 California Camp Fire disaster unfold.
This powerful portrayal is the 2nd book in the wildly popular I Escaped Series by bestselling authors SD Brown and Scott Peters.
Meet Troy, a young hero on a thrilling mission that'll have your child cheering for him every step of the way.
When Troy's parents leave him in charge of his little sister for the night, he's over the moon. But what he doesn't know is that a bigger challenge awaits. Before dawn, Troy discovers his beloved Paradise, California, is facing a massive wildfire.
With lightning-fast determination, Troy knows he must act to keep his sister, loyal dog, and beloved cat safe. Outrunning the fire on foot isn't an option. The clock is ticking, and your child will be on the edge of their seat as Troy devises a daring escape plan.
Will Troy's bravery and quick thinking save the day and protect his loved ones? Join this young hero on a captivating journey filled with unwavering determination and love for family.
"I Escaped The California Camp Fire" isn't just a thrilling story; it's an educational treasure trove. After the heart-pounding narrative, your child can delve into fascinating facts about wildfires and fire safety, gaining a deeper understanding of protecting themselves and our environment. It even shares historical facts about the Paradise Wildfire.
Authors SD Brown and Scott Peters are masters at crafting family-friendly, exciting books that will have your child eagerly flipping pages.
Don't let your child miss out on "I Escaped The California Camp Fire," a chapter book blending suspense, courage, and the unbreakable bond between siblings.
This captivating tale will leave your child inspired, reminding them of the incredible strength within us all.